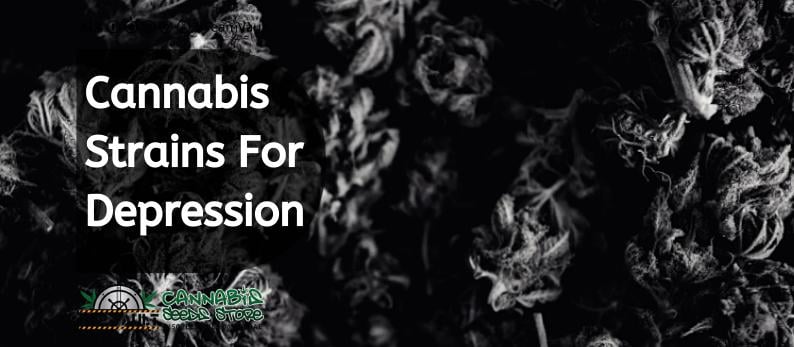 Dealing with depression is extremely difficult, medications and doctors or just trying to find ways to cope. While we are trying to figure ourselves out there is always a natural anti-depressant out there. For those of us that don't want to medicate, don't feel ready to talk about it or just need a little bit of help weed is a great option. There are so many different strains that are ideal for those suffering from depression. Which strain we go for completely depends on the way in which the depression manifests. Some of us need get up and go, some of us need help getting to sleep, and some of us just need a little break from our thoughts to relax. These are just a few of the strains perfect for depression, all of which work in different ways. 
As the name suggests she is perfect for cheering up and chilling out. This high CBD strain is relaxing, calming and soothing with a low THC level. This makes it perfect for anyone who is suffering from mental health issues. It essentially means that the actual high won't be too intense but the medicinal aspects of the strain will be. This strain is not just suggested for depression but for PTSD, sleep disorders, multiple sclerosis, anxiety, chronic pain, and arthritis. Though the strain is extremely relaxing with a pinch of euphoria, it is not at all soporific or sedative so it works well for daytime use. This strain flowers in just 56 – 63 days and can be grown indoors or outdoors. 
Jack Herer is a classic strain well known throughout the cannabis community. It was named after the famous activist and author of "The Emperor Wears No Clothes". She was created by combining Skunk #1, Northern Lights #5 and Haze, three super strains. The reason that this strain is often used for depression is the effect. It is extremely uplifting and euphoric and can be fantastic for breaking vicious depression cycles. Even if it doesn't quite manage to break it fully, as this can be very difficult, it will at least allow some space from the feeling of flat emotionlessness. Sometimes all we need is a little bit of space, even if it's from our own brain. Jack Herer has a high THC level of 20% so she hits a bit harder than some other medicinal strains. She takes just 9 weeks to flower and can be grown indoors or outdoors. 
This strain was created by combining NYC Diesel and Reina Madre. Cannatonic is a multi award winner with a fantastic reputation. She is especially famous for her 1:1 THC to CBD ratio which is around 6 – 7%. This makes her an ideal medicinal strain for both physical and mental health issues. It also means that rather than creating an intense high to distract from depression it feels more as though the depression has been lifted. This can be a great way to get up and achieve micro-goals, a good way to help improve your environment and your mental state. Of course, there is no way to cure depression but many find the ability to achieve small goals throughout the day to be helpful. Personally, if I can tidy my environment and have a shower I find it makes a bit of a difference. This strain will take 9 weeks to flower and can be grown indoors or outdoors. 
Grandaddy Purple goes the other way a little and is perfect for those who are struggling to relax or get to sleep. This strain is a strong sedative and has an overall calming and soothing effect. This strain is also perfect for those suffering from anxiety, nausea, pain and insomnia. Grandaddy Purple receives a lot of its fame from its incredible colouration. Towards the end of flowering, especially in cooler spaces, she will turn a bright and vibrant purple. She tastes of sweet berries and wine, providing an overall fantastic smoking experience. For those of us who just need a moment to chill and separate from reality, this is a perfect strain. The THC level usually sits at 25 – 35% so newer smokers may want to be careful at first. She flowers in 60 – 65 days and can be grown indoors or outdoors. 
This strain is the epitome of tranquillity and calm, a perfect strain for those suffering from depression and anxiety. Unfortunately, these issues often go hand in hand, so a strain that helps with both can be fantastic. The effect is almost meditative with a soft yet powerful calm that allows the brain to float off into a gentle nothingness. This is a great strain for anyone with a loud brain. By this, I mean the constant and intense thoughts or emotions that just stop you for being present or being able to relax. For those depressives who just need a break from themselves, this is the strain. Blackberry Kush CBD is a combination of Afghan and Blackberry. This version of the hybrid is higher in CBD and lower in THC, giving a more lucid high. This is a great before bed strain as it starts of chill and happy but turns sleepy after a while. A great way to just drift off into dreamless sleep and forget about everything. She takes 77 – 91 days to flower and can be grown either indoors or outdoors. 
There are so many different strains that deal well with depression, these are just a few of the top-rated. Though they may help in the short term, depression is a serious matter. Using cannabis as a coping method, for now, can be significantly more helpful that a number of other methods. However, in the long term it is important to talk to someone, perhaps a doctor, and look into the deep-seated reasons for the depression. There is no such thing as a quick fix, but some of these can definitely help sufferers soldier on.
Remember: It is illegal to germinate cannabis seeds in many countries including the UK.  It is our duty to inform you of this fact and to urge you to obey all of your local laws to the letter.  The Vault only ever sells or sends out seeds for souvenir, collection or novelty purposes.
Make sure you never miss another Vault promo and sign up for our newsletter at http://goo.gl/Bt2Ba2