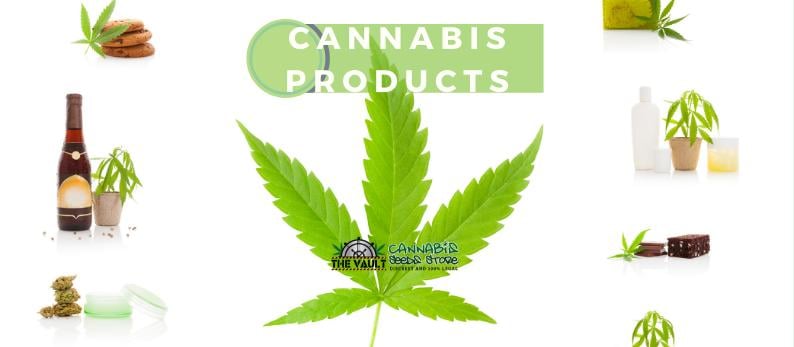 Cannabis has evolved a lot over the last few years and that applies to the way we consume it. Ok, edibles and the like have been around for a long time, but this has evolved into different weird and wonderful ways to ingest the plant.
In this blog post we look at the various ways and means you can digest or use the plant. Perhaps you don't like smoking it or want to hide the smell. You might even just want to use it for its CBD qualities, and there's plenty of options for you. By introducing it to your food or drinks or using it for health purposes, you can get around that and sample some really pleasurable ways to consume it.
Let's start with a fellow Scottish company and that is Hope CBD. They sponsor Scottish Football Club Hamilton Academicals. If you know Scotland well, you'll know (amongst other things like whisky and haggis), that we like drinking tea. In this instance, not any old tea, but CBD tea.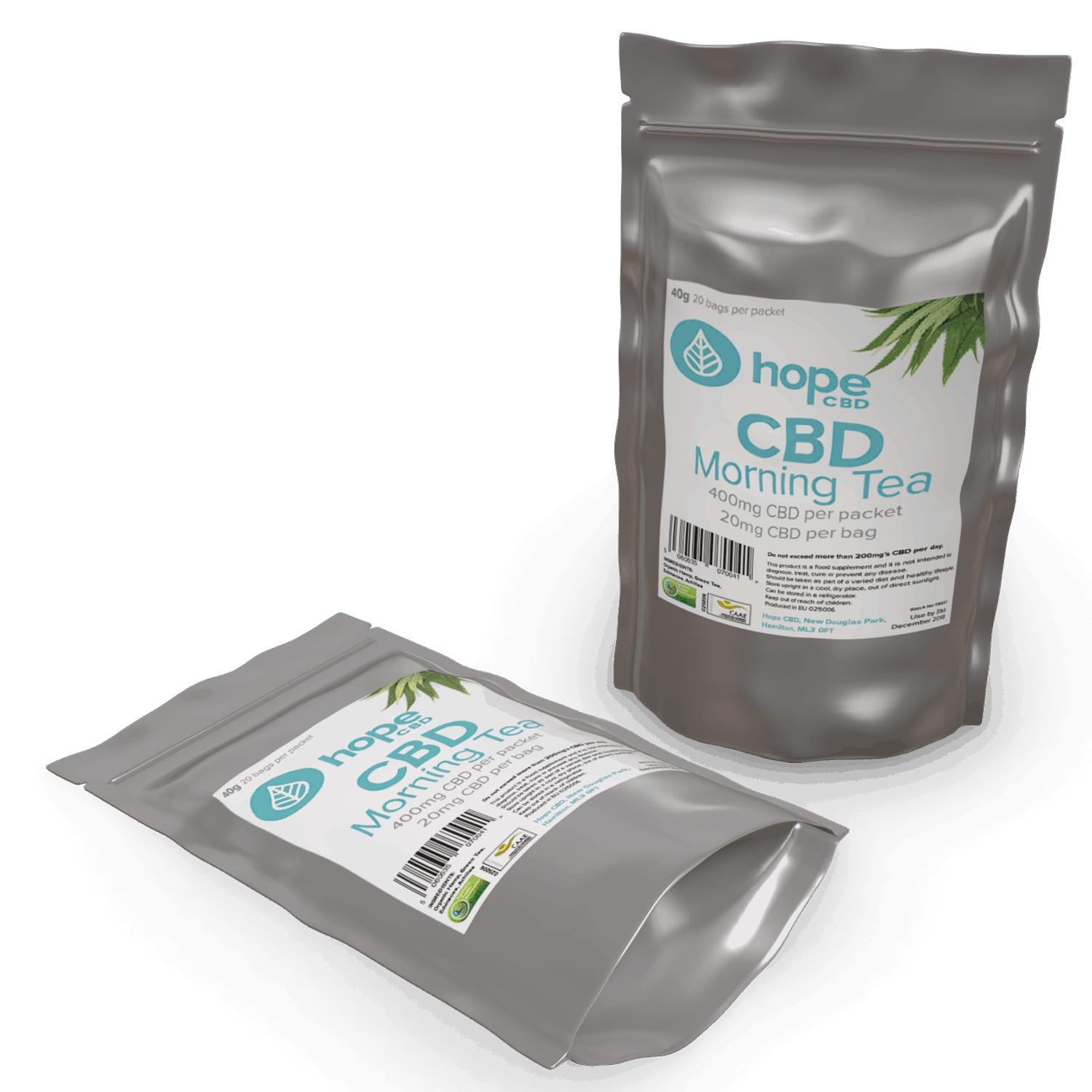 In your CBD Tea (Morning Blend) you will get 20mg of CBD and CBDa per tea bag! As per their description, the tea is created from the finest flowers trimmed from hemp plants the teas and are rich in antioxidants and cannabidiol. Click through to check it out. They also stock other great CBD products, some of which we'll touch on below from other outlets.
Cannabis Lollipops by Euphoria
At this early stage of the post we have to admit that we haven't tried these products, but we simply like the look of them and want to bring them to your attention to show how the world of Cannabis is changing. This next product might be slightly controversial because it's a Cannabis Lollipop, and generally lollipops are consumed by minors. In this case, we have 12g lollies with Cannabis extract within. There's not a lot of other details on the properties of each lolly, but nonetheless, it' cool and looks quirky. Whether it's tasty or not that remains to be seen!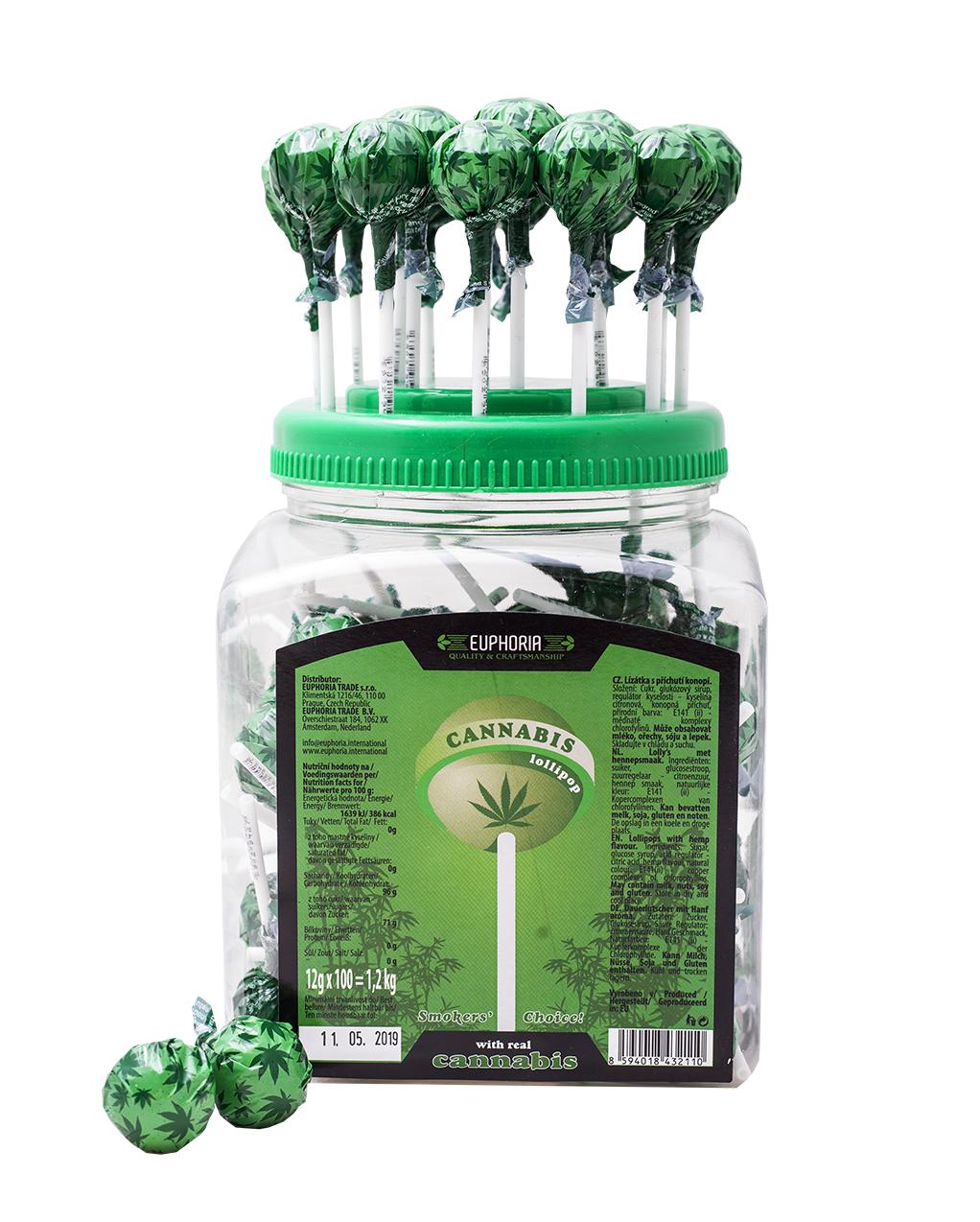 The Cannabis lollipop is from Euphoria who are based in the Czech Republic. They've got lots going on so check them via the link above.
CBD Hydrating Lip Balm from Cannuka
It's coming into winter in Scotland (it feels like it here now to be honest), and that means there are dry lips out there! Instead of reaching for the Lypsyl this year, take it up a notch and try some CBD Hydrating Lip Balm, to keep those chapped lips at bay (they need to be in good shape for resting that freshly rolled joint on remember! According to the descriptor, CBD can easily be absorbed into the top layer of skin as it assists the CB1 receptors. As a result of this, Cannuka claims that CBD's anti-inflammatory properties calm and reduce swelling allowing the Manuka honey to repair the top layer of skin. Sounds very scientific, but I get the proof is in the pudding…so try it for yourself!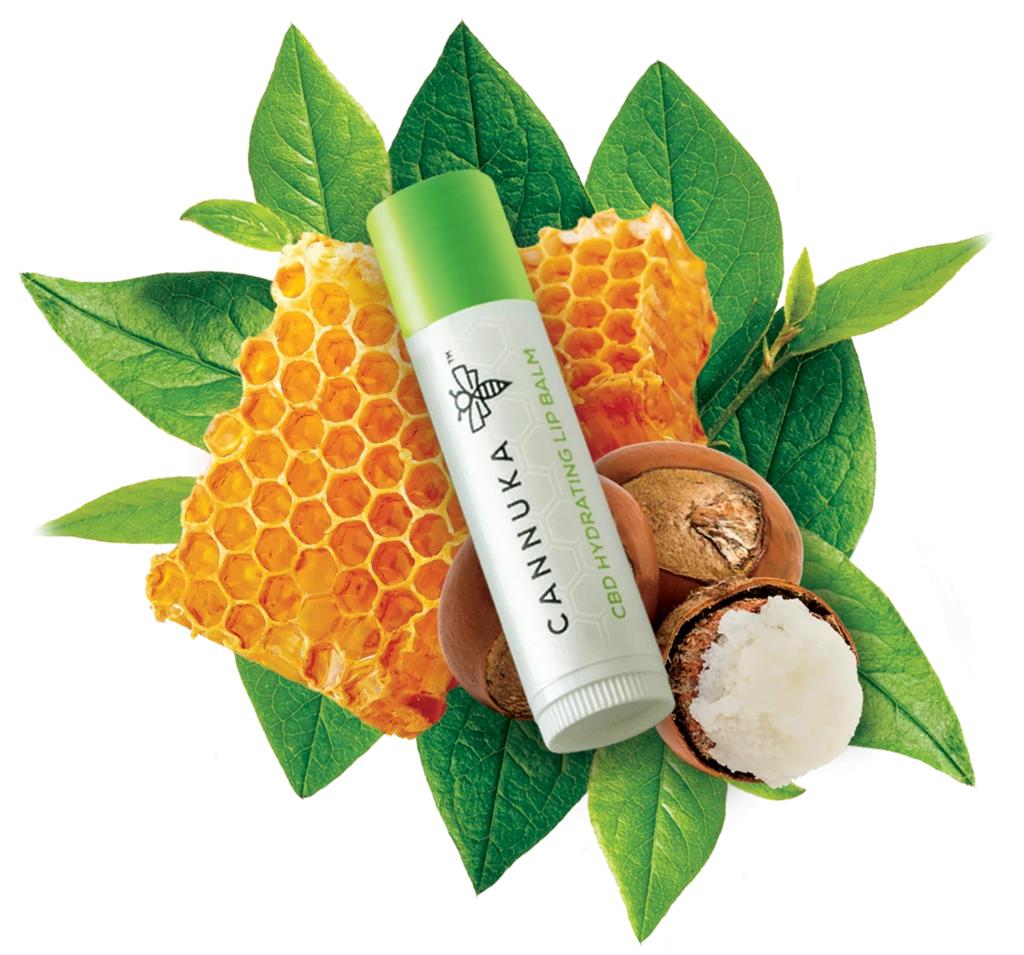 Cannabis Dining story via Entrepreneur Magazine
Entrepreneur published this post just last month, so this is fresher than fresh. The title is 'The First Cannabis Restaurant in The US Has Opened And It's a Dream Come True'. This new restaurant is called Lowell Cafe Farm. Before we go on, let's mention the laws. It is still illegal to smoke Cannabis in public in legal states over in the U.S of A, however, due to a law change in West Hollywood made in 2017 and this approves businesses a license to serve – which is great news! This change is seen as historic, and paves the way for these positive changes to continue both locally, nationally and internationally (are you listening UK?). Based on the article, the food isn't infused with Cannabis but it's served as an accompaniment to the weed you've chosen to smoke, similar to how wine would go with steak and so on. Pretty nifty. Be sure to follow them or if you're in the vicinity, drop them a visit.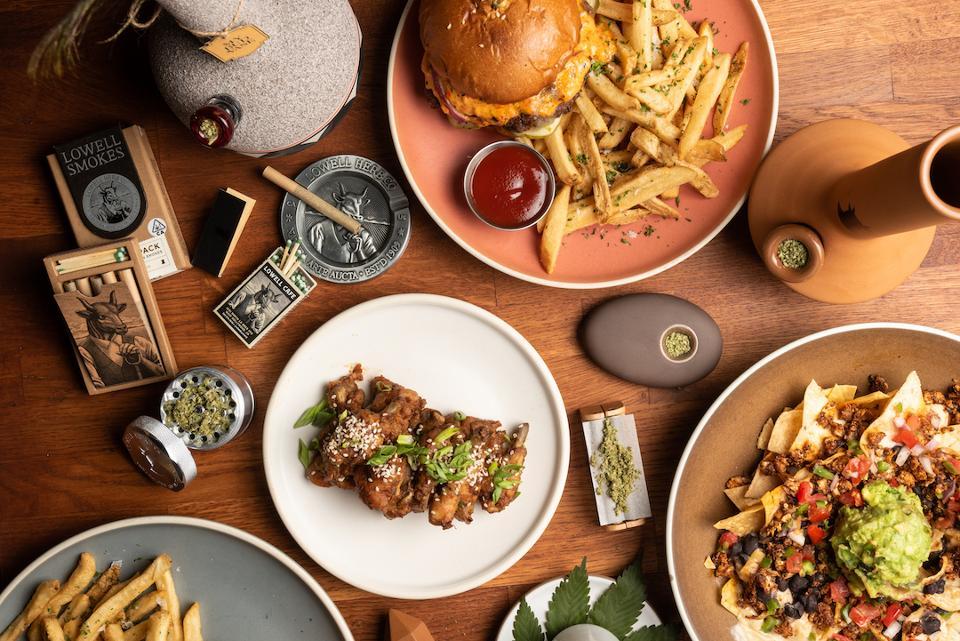 The Lowell Cafe.
The Herbal Chef is a new concept in Canada, whereby Fine Dining, Catering, Banquet & Events gets the Cannabis treatment.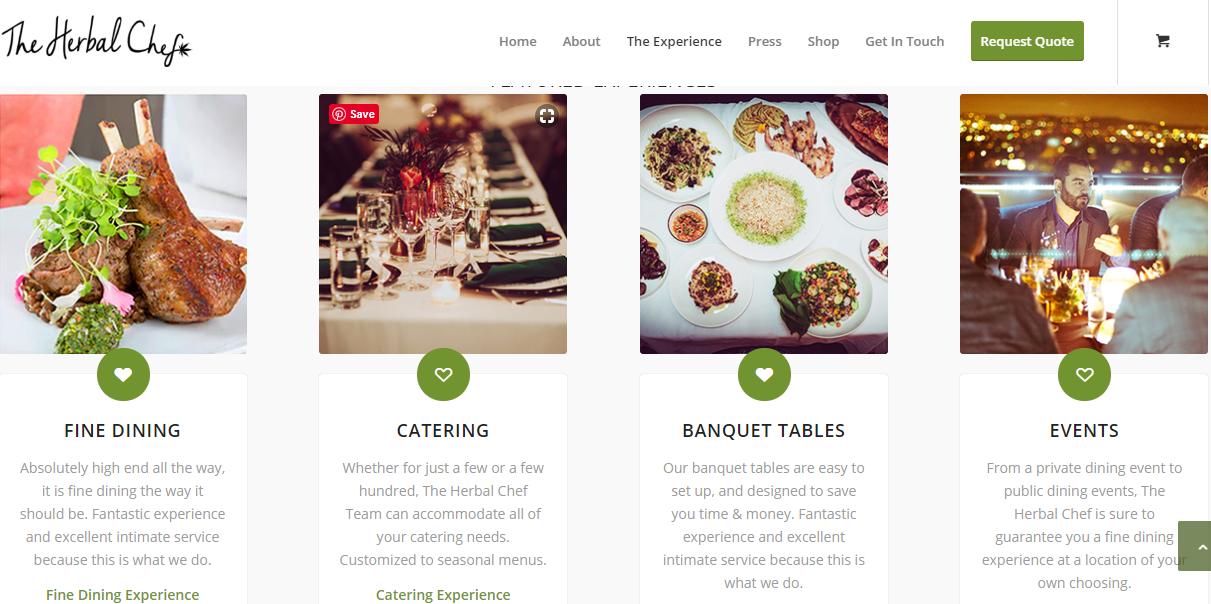 Given the law change in Canada, things like this can happen openly and freely. If you want to see what legalisation looks like, look more at Canada. This business, run by Christopher Sayegh, caters to parties and weddings amongst other things. Imagine having a Cannabis themed wedding, what a great idea!
Cannabis Absinthe from xikixi website
As we've stressed above, we are have not tried these products, nor are we getting anything from mentioning them in this post so it's always right to be aware of what and who you are buying from. In this instance, we are looking at a Cannabis / Alcohol cross product with Absinthe. It sounds pretty potent! We're intrigued as to what feeling you're meant to get from it as we all know mixing cannabis and alcohol can be a little messy to say the least.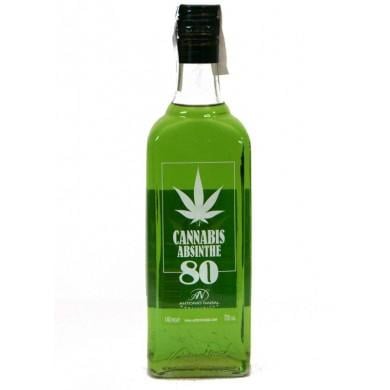 We're a bit unsure of Cannabis and Alcohol mixes, but you should always try something at least once. There have been some big news stories lately with some top brewers buying their way into the market, so you will see a lot more products like this very soon.
Ok, on the same theme here, however, this Cannabis Wine is pitched more as a novelty than a true canna and alcohol mix! To be exact, Winabis states that it will not get you high, stashed or stoned, but it will get you drunk, pished and smashed – assuming you overdo it of course! Given the low THC content and lack of CBD its more about Cannabis flavourings than anything else. If you fancy a novelty gift for someone, then this might be there very thing!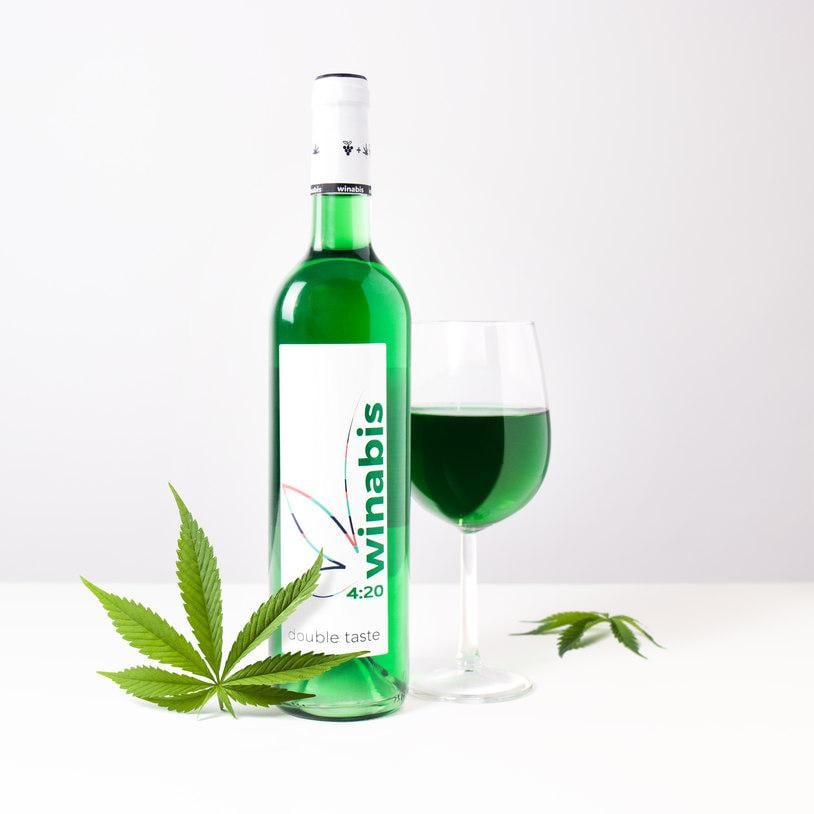 Winabis, with a cheeky 4:20 reference.
CBD Oil FM from Natures Medics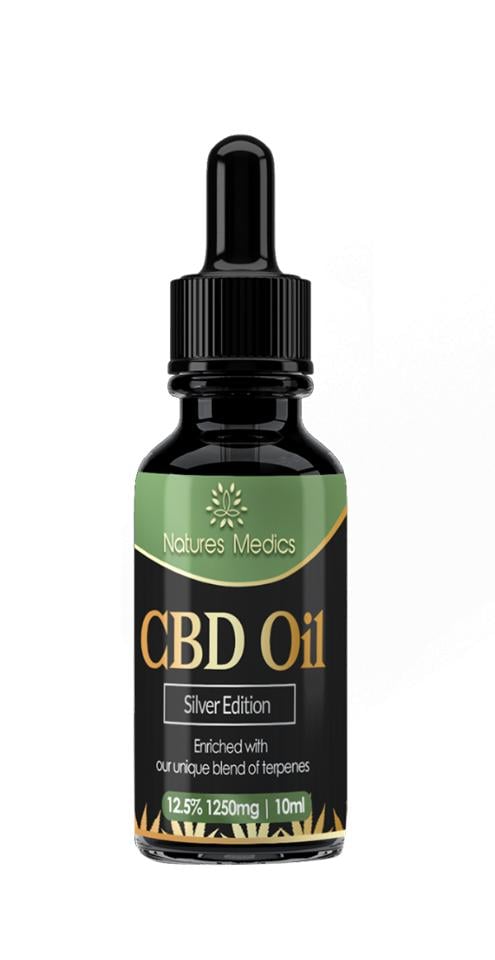 Finishing up on a more traditional Cannabis-based product and that is CBD Oil. Based on Natures Medics website, FM CBD Oil is specifically engineered to achieve the homeostasis of the immune system via the endocannabinoid system. In the product there is a blend of Phytocannabinoids, Endocannabinoids, Cannabinoids & Cannabinimics. To check this out and the other products, click the link and visit their website.
Summary
We'd love to hear if you've tried any of the above products or any cannabis-related products we've not mentioned. Drop them in the comments.
Newsletter Sign Up
Make sure you never miss another Vault promo – sign up for our newsletter at http://goo.gl/Bt2Ba2
Remember: It is illegal to germinate cannabis seeds in many countries and some remote, less enlightened planets outside the core systems.  It is our duty to inform you of this fact and to urge you to obey all of your local laws to the letter.  The Vault only ever sells or sends out seeds for souvenir, collection or novelty purposes
Disclaimer: The Vault do are not officially endorsing any products mentioned above and are merely referencing them. Always do your own research when making an online purchase and check the T&C's accordingly.