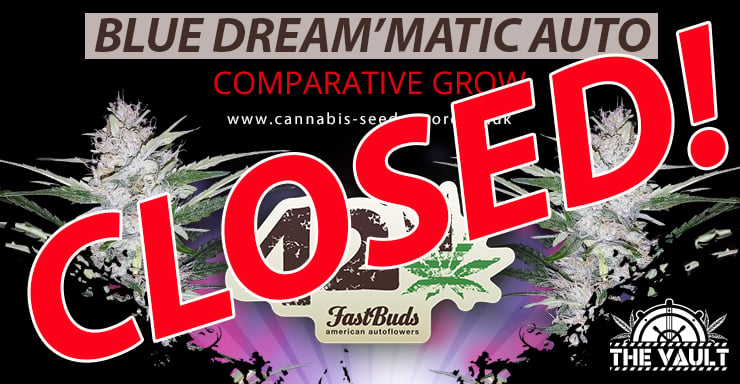 The Vault's Blue Dream'matic Auto Comparative Grow – in association with FastBuds
The Vault has teamed up with the new award-winning pioneers of the Autoflowering world: Fastbuds – to bring you another amazing Comparative Grow – this sounds like a perfect auto for all of us insomniacs 🙂
Please Note: There are two Comparative Grows running side by side this time!! 🙂
Please also note guys, that 3 new forums will also be participating, so don't hang around in entering, as all of the seeds will be used up pretty quickly.
Please read all the way to the bottom of this post to find out how to enter both Comparatives at once.
Make sure that you have a good read over ALL of this post to make sure that you understand all of the details about how this Comparative Grow works, and what you need to do to enter – if you don't read all of the below, and hence don't enter correctly, you may miss out!
First up, let's introduce the amazing strain at the centre of this Comparative Grow…
Blue Dream'matic Auto from FastBuds
Flowering Time
Flowering Time: 9-11 weeks
Yield Potential
The yield for this strain is by FastBuds as "A Beast of a Plant" and "XXL" 🙂
From FastBuds: "Big, long, dense buds are the signature of this strain, which spreads branches wide and far — more of a giant bush than a tree — and can net up to 300g per plant in just 9 weeks." 😮
Effects
Blue Dream'matic is a 'true blue' budding machine which delivers a euphoric, relaxing and uplifting high.
It's an sativa – indica blend (up to 75% sativa) that gives an intense head high before mellowing out into a body high — perfect for afternoon tokes. You won't be crashed on the couch…
Flavour
This 2017 autoflower creation stays true to the Blue Dream classic with sweet earthy notes at early growth, later joined by a sharp berry scent.
The final flavour is the genuine article: a hint of pine/cedar and tart sweetness that leaves a slight dry mouth as the soothing, happy vibes take grip. The final harvest gives off a fantastically pungent, citric aroma that really gets you salivating!
Hold on – does this mean free seeds?
That's right buddy! There are no New York street con tricks at play here – Just an amazing Comparative Grow that we want to spread far and wide throughout the land!  Eligible entrants will receive free seeds from The Vault, along with an awesome free t-shirt, so they can participate in the Comparative Grow in style!
How to enter the Comparative Grow
To join in the fun and enter this Comparative Grow, simply visit this page: https://www.cannabis-seeds-store.co.uk/apparel/blue-dream-39-matic-auto-comparative-grow/prod_9718.html choose your t-shirt size and add to your basket.
Make sure to specify your forum name and your username in the Comments section at the end of the checkout, for example: "Jack – The Vault, GrassCity". And then simply choose the payment option: "Cash or Money Order Payment" to complete your entry.
When the cart asks you if you want to add stealth shipping to your order, please select "no" for Comparative entries.
The Comparative this time will be running on 5 forums:
Grass City
Roll It Up
ICMag
420 Overgrow
420 Mag
And please feel free to use this opportunity to take advantage of the FREE delivery with this promotion, to add more seeds to your basket before checking out.
If you do not enter your Username you cannot be entered for the Comparative Grow – so make sure you do this!!!
Please Note: This Comparative Grow is only open to genuine, active forum members. Because this Comparative Grow is only open to genuine forum members, only blades with profiles older than 3 months, with 50+ likes (the 'likes' does not apply to ICMag members, as there is no 'like' facitlity on this forum) and with more than 100 comments/messages will be eligible to enter.

Also, if you do join this Comparative Grow you MUST post pictures and comments to the Comparative thread – failure to do so will rule you out of the next Comparative Grow.
Delivery information for free Comparative Grow packages
For this Comparative Grow we will not be sending out our free packages using tracked delivery (this helps us to keep costs down so we can continue to offer such kick-ass free giveaways to the community!), meaning these free seeds and shirts will not come with our usual guaranteed delivery.
This only applies to the free seeds associated with this Comparative Grow: All normal orders with The Vault are still tracked and guaranteed!
For international entries, please do not choose to add stealth shipping, as all standard Comparative packages will be sent using the same method of packaging – inside a t-shirt of your chosen size.
To view the second Comparative Grow, please visit here: https://www.cannabis-seeds-store.co.uk/Cannabis-Seeds-News/brooklyn-sunrise-auto-comparative-grow
And if you want to enter both Comparatives, you must click here (please note that entrants into both Comparatives will only receive one t-shirt – single entrants into both Comparative will have the second entry denied): https://www.cannabis-seeds-store.co.uk/apparel/both-comparative-grows-brooklyn-sunrise-and-blue-dream-39-matic/prod_9719.html

Your buds here at The Vault hope you have loads of fun with this Comparative Grow – remember to share the love with all your buds – and as always, May the force be with you!
#TEAMVAULT
Remember: It's illegal to germinate cannabis seeds in many countries.  It is our duty to inform you of this important fact and to urge you to obey all of your local laws.