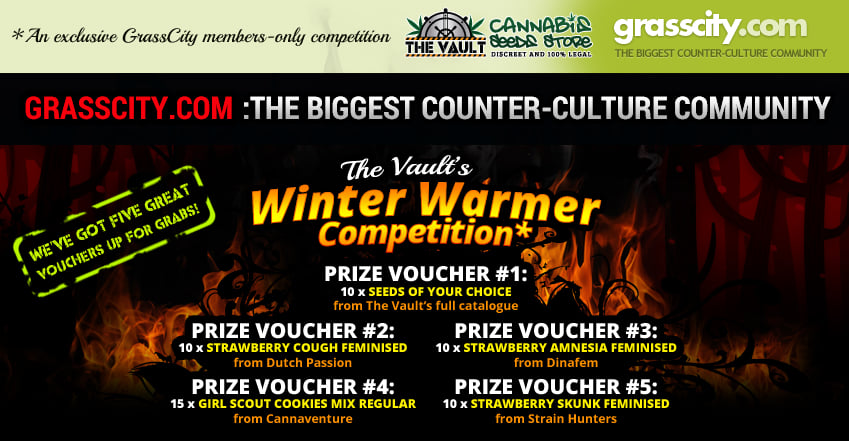 The days are certainly getting shorter, the nights may be getting colder – and weather forecasts might soon start to be filled with gloomy predictions as winter begins to extend its icy grasp across the face of the earth: But if you are a Grasscity member, The Vault has an exclusive competition which will help you to shake off those winter blues and feel snug and warm inside…
This time, your buds here at The Vault have decided to spare no expense in order to make this competition worth your while: We're giving away vouchers for some of our most valuable, highly-prized seed strains, with the first-place winner even getting to choose their own prize!
This fantastic promo is exclusive to Grasscity forum members only: If you haven't set up an account there yet, now is the time to do so here

How to enter
Simply visit The Vault at www.cannabis-seeds-store.co.uk, take your time to browse our catalogue of amazing strains and pick a 10 pack of seeds that you'd like to win: Once you've decided which 10 pack you'd like to win, post your selection here on the GrassCity Forum post.
Five lucky winners; five amazing sets of prizes: the clock is ticking…
We've gone all out to make Christmas arrive early for five lucky winners this November: With vouchers for 55 awesome seeds to dish out, even Santa would be hard pressed to fill your stocking with so many goodies…
1st Prize: We'll give the lucky first-place winner a voucher for a 10 pack of any seeds that they have chosen from our massive selection of awesome strains at The Vault.
2nd Prize: A voucher for a 10 pack of Dutch Passion Strawberry Cough Feminised Seeds
3rd Prize: A voucher for a 10 pack of Dinafem Strawberry Amnesia Feminised Seeds
4th Prize: A voucher for a 15 pack of Cannaventure Girl Scout Cookies Mix Regular Seeds
5th Prize: A voucher for a 10 pack of Strain Hunters Strawberry Skunk Feminised Seeds
The winners will be drawn at random.  The competition will close on the 25th November 2014.  The lucky winners will be announced here on Grasscity on the 26th November 2014, as well as on our Facebook and Twitter pages and right here on our blog.  Jack (The Vaults Boss man) will also PM the five winners via Grass city's messaging system, in order to make sure that no one misses out on their winnings.
Good luck, have fun – and remember to tell all of your friends about this great competition: After all, with five sets of vouchers up for grabs, the more the merrier!
LEGAL DISCLAIMER: Over 18s only.  Remember to always obey the law.  It's illegal to germinate cannabis in most territories around the world. The Vault only ever sells or sends seeds and seed vouchers for souvenir, novelty or collection purposes.  If you win but don't receive your prize, we cannot resend competition seeds, so you will have to raise this with your local delivery service (for example, in the UK, this would be Royal Mail).

UPDATE: 26/11/14 The winners have been announced at http://forum.grasscity.com/grasscity-advertisers/1343127-vault's-winter-warmer-competition-exclusive-grasscity-members-only.html?p=20983190