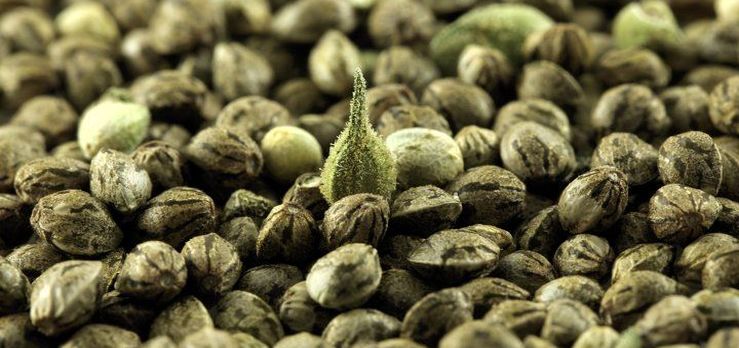 Devil's Harvest Seeds
Devil's Harvest Seeds is a Dutch cannabis seedbank, founded on April 20th 2008 in Amsterdam. After being a part of the coffeshop and cannabis culture for years, they've decided to breed and offer their own cannabis strains in feminized and regular seed form. They are focused, primarily on creating highly potent and resinous strains, ranging from Indica to Sativa, and improving on flavors, yield and flowering time.
Starting with 'upgrading' older classic strains such as Rollex OG Kush and Skunk (Shoreline), they've since created and crossed some of the best and most popular strains around. Having won several High Times Cannabis Cups, Spannabis and High Life cups and awards, they've quickly gained a respectable following and several "high" profile endorsements which include the likes of Snoop Dogg, Sting, ZZ Top, Damian Marley, Wu Tang Clan, Slipknot and others.
Their most popular strains include:
John Doe – Indica-dominant cross between legendary G13 and Strawberry Sour Diesel. It finishes in 9-11 weeks, usually testing at 20-22% THC and provides for high yields. Plants will grow tall and thin, usually showing foxtails and they do require some handling and attention to bring out the best in them. It provides for an uplifting, motivating and creative experience, leaving you focused and relaxed. Aromas and flavors are of eucalyptus, mint and pine with hints of diesel and berries.
Shoreline – award-winning Sativa-dominant cannabis hybrid, a cross between legendary Sensi Skunk and Oasis. It produces high yields, usually tests at 19-21% THC and finishes flowering in 8-10 weeks. Plants prefer warmer climates, produce a lot of leaves and exhibit beautiful purple color, usually setting in around week 6 of flowering. Seeds are available in both regular and feminized form. Aromas and flavors are strong and pungent – sweet and fruity, similar to fresh berries. Effects are strong and long-lasting – happy, relaxed and talkative, while providing for a nice body-buzz.
OG Reek'n – Indica-dominant cannabis hybrid made by crossing Wardareek'n female and Kuchi male. Tall and stretchy plants that will easily double in height during stretching. Usually testing at 20-23% THC, it will provide high yields in 9-10 weeks of flowering. Aromas are sweet and citrusy with hints of fuel. Due to high resin production, it's a popular choice for various extractions. Effects are very strong, leaving you relaxed, comfortable and sleepy with a full body-buzz. We offer both feminized and regular seeds as well as the autoflowering version.
Pyramid Seeds
Pyramid Seeds is a high-quality Spanish cannabis seed bank, founded in 2007. They started with 8 feminized strains that quickly gained popularity, first in Spain, then later in Europe and the rest of the world. They now offer a wide variety of both photoperiod and autoflowering strains, as well as CBD-rich strains. Pyramid Seeds philosophy is to offer affordable, easy to grow, genetically stable varieties that suit both the amateur and experienced growers alike. All their seeds are still hand-picked, cleaned and manually selected and produce germination rates of 97% with 99% female plants from feminized seeds.
Inspired by old Egyptian culture, many of their strains bare names of pharaohs, ancient Gods and deities – such as Tutankhamon, Ramses, Nefertiti and Anubis. Their strains have won numerous awards and cups, as well as set a record for Highest THC Level Available, testing at 33% THC for their Tutankhamon strain.
Some of their most popular strains include:
Tutankhamon – Sativa-dominant hybrid, an AK-47 phenotype is well known for its potency, being the first cannabis strain that tested over 30% THC. Yields are usually around 500g/m2 or 500-1500g per plant outdoors with flowering time of ~9 weeks. Providing instant pain relief with long-lasting cerebral high that turns into a relaxing body stoned feeling makes Tutankhamon a great choice for medicinal and recreational users alike. Flavors are mostly citrusy with hints of berries, candy and honey and aromas are sweet and orangey with earthy undertones. Both photoperiod and autoflowering versions are available.
Auto Kryptonite – autoflowering version of Kryptonite, crossed with Ruderalis in order to ensure that it finishes fast and has a good resistance to pest, disease and harsher environments. This Sativa dominant hybrid is ready for harvest in just 8-10 weeks and usually tests at around 17% THC. It's aromas are fresh, piney and citrusy with hints of wood, earthy and spices. Flavors are sweet and fruity with sour and herbal undertones. Effects are cerebral – energetic, focused, creative and uplifting. Yields go up to 450g/m2 or 40-200g per plant.
Auto Super Hash – Indica-dominant autoflowering version of a cross between Mr. Nice's Hash Plant and legendary G13. Plants provide for nice yields – usually around 400g/m2 or 50-180g per plant. Buds are dense, hard, sticky and loaded with trichomes, ideal for hashish production. Finishing in just 8-9 weeks Auto Super Hash is a great strain for beginner growers as well as for concentrate makers and experienced growers. It's a great mix of old school genetics and new autoflowering varieties. Usually testing at 17% THC.
Nirvana Seeds
Nirvana Seeds is an older and highly respectable Dutch cannabis seed bank with its roots planted deep in the center of Amsterdam. Their history dates back to the 1980's but it wasn't until 1995, until they were officially founded. With decades of experience in growing, breeding and experimenting with cannabis, as well as traveling the world and collecting seeds, they've compiled a vast library of finest and most unique cannabis strains available.
They offer a wide range of both photoperiod and autoflowering cannabis strains in regular and feminized seed form and their strains have also won numerous awards and cups worldwide. Although their main focus is still on developing new and exciting cannabis strains, they've developed an entire line of hemp drinks as well, including iced tea, wine, beer and liqueur.
Some of their most popular strains are:
ICE – award-winning Indica-dominant cannabis hybrid, a cross between Skunk #1, White Widow, Northern Lights and Shiva, known for its extremely high resin production and potency. Plants are generally shorter and bushier and produce up to 500 – 600g/m², usually testing at 15-20% THC. Effects are happy and euphoric, leaving you stress free and relaxed. Flavors are earthy and piney with minty undertones. ICE is available as feminized and regular seeds.
Wonder Woman – Indica-dominant cannabis hybrid with skunky heritage, which is responsible for its pungent and smelly aromas. Usually finishing in 8-10 weeks with yields going up to 450-550g/m2. Medium sized plants are easy to grow, very easy to train and forgiving when it comes to nutrients. Effects are balanced and start off as euphoric, motivating and focused, transitioning into a relaxing and calming body high that will leave you happy, sleepy and hungry. Aromas and flavors are sweet, pungent and skunky with hints of fruit and jet fuel. Usually testing at 13-19% THC.
Raspberry Cough – Sativa-dominant cannabis hybrid that finishes in 9-11 weeks with yields going up to 400-500g/m2. Usually testing at 15-19% THC, it's an increasingly popular choice for all growers, both indoors and outdoors. It's easy to grow, forgiving when it comes to nutrients. It leaves the user focused, energized, happy, euphoric and uplifted. Its aroma is a delightful mix of earth, berries and oranges with very similar flavors, with the addition of pine and sweetness. Available as both feminized and regular seeds.
Why not head on over to The Vault Cannabis Seeds Store now and pick up some UK Cannabis Seeds whilst taking advantage of the discount codes VAULT15 for 15% of your order total!

Newsletter Sign Up
Make sure you never miss another Vault promo – sign up for our newsletter at http://goo.gl/Bt2Ba2
Remember: It is illegal to germinate cannabis seeds in many countries including the UK.  It is our duty to inform you of this fact and to urge you to obey all of your local laws to the letter.  The Vault only ever sells or sends out seeds for souvenir, collection or novelty purposes.