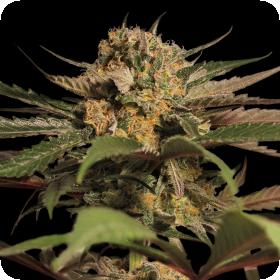 Violator Kush Feminised Seeds
Barney's Farm Violator Kush is an indica-dominant hybrid with a noble parentage: Hindi Kush crossed with Malana. Violator Kush is recognized by huge yields of top-quality product with a high THC content. Its dominant indica genes allow these feminised seeds to respond well under mild stress and make the plants impressively resistant to various diseases. The seeds also have a high germination rate: 80% or better.
The plants grow to about 80-90 cm when fully mature. It grows bushy with leaves that are dark green and large for an indica. From early in its flowering phase, Violator Kush gives off an inviting, earthy aroma. The buds grow so large and dense on Violator Kush that growers may want to consider tying or staking these plants. The plants themselves shimmer with white, shiny hairs and the buds are coated in a crystalline resin. Both traits evoke images of a plant perpetually covered in frost. It is a delight to look at and really builds anticipation for the end product.
Violator Kush lends itself well to both indoor and outdoor growing scenarios and responds well to all common cultivation methods. Outdoor harvest in the Northern hemisphere begins at the end of September. Its yield definitely lives up to its breeders' expectations providing about 650 g per square metre. These numbers do not change considerably by growing method - they will be comparable whether cultivated indoors or out. The flowering period is 8 weeks. Waiting the entire period will yield a more potent product with a superior shelf life. The flavour is also very earthy and grows in intensity as the plant matures.
The advantage of feminised seeds is their ability to grow easily with little additional maintenance. Violator Kush feminised makes a great option for growers looking to gain experience and enjoy an above-average yield with minimum effort.
Please remember that the growing of cannabis plants and the cultivation of seeds is illegal in some countries - please check the laws of your country and don't be growing any plants if it is against your country's laws.
Genetics:
Malana Charas cultivar x Hindu Kush