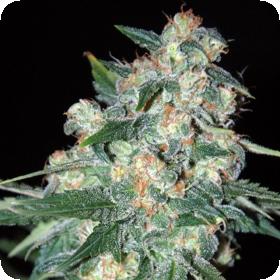 The advantages of choosing Ketama for your upcoming growth project are many. These Moroccan marvels will grow for you practically anywhere and don't ask much at all from the grower beyond the basics.
The plants stand up well to warmer or cooler weather, and they aren't very demanding when it comes to nutrients or even water.
They have learned to thrive under true minimalist conditions and will almost always produce some huge, tasty, resin-soaked buds without an abundance of attention.
This landrace Indica from Northern Morocco is exceptionally potent and will leave you couch-locked for hours. Cancel your plans for the night - you're not going anywhere once you light up Ketama! This is also a fantastic variety for making hash.
The Moroccans have known this for quite some time. In fact, many who try it say it's the best they've ever had.
Adding to its overall appeal, Ketama finishes quickly - only 7-8 weeks from seed and you are ready to harvest and cure. Leave them a little longer for a lighter flavour but a stronger effect.
Grow Ketama indoors and you are sure to be impressed with how little you have to do for these plants to make them thrive. A steady light cycle is helpful, but beyond that these plants will practically grow themselves.
They are short enough for almost any grow room, closet or balcony, and they work well with specialised grow methods like SoG and ScrOG. Outdoors, they stand up well to a variety of weather conditions and are highly resistant to pests.
If you are still working on developing your green thumb, these plants are a great place to get your practise in. These seeds are very forgiving and will produce some great product even if you make a few mistakes along the way.