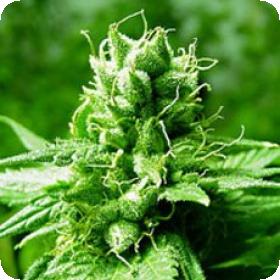 Brazil Amazonia Regular Seeds
Are you ready to experience a truly wild, exotic cannabis strain? If so, we have the perfect one for you. Brazil Amazonia comes from a landrace strain that grows wild in the Amazon Rainforest.
The indigenous people of that region have known for aeons that it has powerful pain-killing properties, particularly for women during childbirth. It should not be surprising to learn that it is also touted as a superior strain among many in the medical marijuana community.
Brazil Amazonia is powerful but not overpowering. This only adds to its appeal for use in medical applications. Its flavour is a curious mix of sweet and bitter and its aroma evokes images of pepper and spice.
The buds grow very large and, upon full maturity, are so heavy they actually pull the branches down under their weight.
These are great seeds for growing either indoors or outdoors, but they work best in warm climates when growing outdoors. Their adaptation to growing in the rainforest have made Brazil Amazonia impressively resistant to mould and fungus.
One hint for indoor growers in the Northern Hemisphere: plan your planting to allow the maximum number of warm, sunny days as this will best mimic the conditions to which these plants' genetics are conditioned. Harvest these plants by early October at the very latest.
When grown indoors, these plants thrive under a variety of growing methods. They are squat enough to accommodate growing in tight spaces like balconies and closets, and they take well to SoG and ScrOG setups. The plants finish after about 8 or 9 weeks.
These plants are particularly easy to grow and manage. They require little extra attention in order to thrive. Give them a steady diet of nutrients and don't expose them to freezing and you will find that they produce well and provide an excellent finished product.