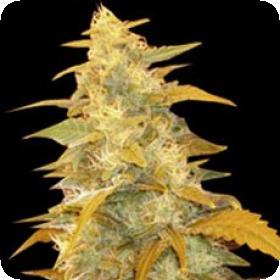 Afghan Kush Regular Seeds
Afghan Kush is a landrace strain that has been growing wild for aeons in the Hindu Kush mountain range. Its name is known worldwide and its genetics have been used in numerous hybridization projects over the years. It grows and thrives in a variety of environments thanks to its mountain-grown genetics.
It's those genes that make Afghan Kush so hardy. Those growing it outdoors are sure to appreciate its ability to stand up to all kinds of weather, even frost. Harvesting late October or even in early November works fine. They get better the longer they grow, even in the cold.
The versatility of these plants lends itself well to indoor growing as well. Use your favourite setup - soil, potting, hydro, etc. These plants grow well anywhere and are squat enough to grow in closets or on balconies. Their fast finish time also adds to their appeal. In just 45 to 55 days these plants are finished and ready for harvesting.
Even better, most specimens of Afghan Kush yield upwards of 500 g per square metre. Some produce even more. Plants grown indoors can produce even greater yields - an incredible 600 g per square metre or better under optimal growing conditions! Cured product can last for months or more with no loss of quality or potency when stored properly.
The finished product also boasts impressive THC and is 100% pure indica. Don't bother making any plans once you light up. You won't be going anywhere for a while. Get comfy on the couch and enjoy the ride.
Despite the potency of Afghan Kush, it is also touted as an excellent strain for medical applications. It alleviates nausea and can quiet migraines. Its potency also acts as an effective aid for insomnia. It has an almost immediate effect that lasts for hours.