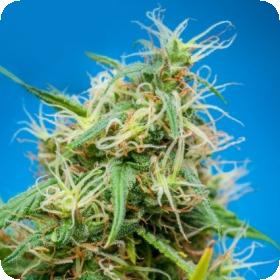 Tropical Seeds has done it again: produced a singularly impressive sativa hybrid that takes advantage of some great genetics. Congo is a hybrid cross between two great strains: Congo Pointe Noire and Ciskei P3.
The result is what many consider to be a perfect combination of genetics from producing an amazing sativa with many unique and pleasing qualities.
Although they represent the best that a quality sativa has to offer, these plants also manage to keep their height under control to the point where they can be easily grown either indoors or out.
Indoor growers report that these seeds have better results when grown in soil setups, but that really is the biggest consideration the grower will ever have to make with them. The plants grow well with a standard diet of nutrients and basic light cycles.
Outdoors, they are even easier to manage since they can be allowed to stretch and will subsequently produce a bit better than indoor plants. They are also very fast-flowering when compared to other sativa's at just 65-75 days indoors or out.
The plants develop gorgeous white ball-shaped buds and take on a fruity, citrusy scent as they mature. Some even say that earthy notes and spice are also detectible, particularly when lit.
The Congo genetics also add a touch of sweetness that some compare to the smell of carrots.
Congo provides the user with an effect that is very typically sativa. It is potent without being overpowering and gives the user a very pleasing full-body effect that is very energetic and uplifting.
Best of all, these generous packs provide the opportunity to not only grow a nice number of healthy plants, those plants also clone well giving the grower the opportunity to extend the investment considerably.