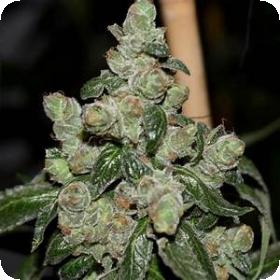 Full Energy Regular Seeds
In this latest version, Full Energy has been updated and improved.
It is a hybrid strain of 50/50 indica/sativa and is the product of a cross between the male solitary survivor of a crop of Old Timer's Haze seeds and the short Old Afghan NLD strain of Tropical Seeds.
The outcome shows sativa tendencies, with the added bonus of larger buds indoors as well as outdoors, while having great stability and resistance to various conditions and pests at the same time.
This is a strain that will establish a columnar structure with a main stem and cola when grown in smaller pots.
However, when sufficient root space is given, it will prodigiously develop into a long-cola multi-branched plant that will probably require support if they are not to snap.
Indoor flowering will take longer than the average modern cannabis strain, and it will take 12 - 14 weeks for these plants to achieve full maturity.
Yields are average, although there will be much better yields for larger specimens with root space.
With some animal scents as well as that of leather, the scent becomes markedly citric in nature at near maturity.
Its effect is very powerful and embraces the cerebral and the physical.
This provides great energy for a hard day's work while also allowing for relaxation.
Novices, especially at first, should be a bit wary of their effects.
Genetics:
Old Afghan NLD short cut x Old Timers Haze green light cut