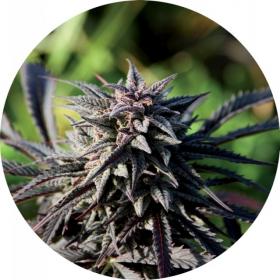 Tao Purple is an award winner and has twice succeeded in Cannabis Cup competitions. If this strain is carefully grown it will produce insanely large yields of fabulous buds.
The strain gets its name from the beautiful purple hue which darkens as it matures. The flavour is a combination of citrus, spice and fresh berries with a mouth watering scent to match.
The effect is psychedelic as well as mentally and physically refreshing. This classic strain is perfect for any garden and, with its dark colouring and shining resin these beautiful plants look just like a night sky. 
This is a regular strain and will grow into a mixture of male and female seeds. This makes them perfect for breeders, who need the male plants to breed their next crop.
A regular crop will grow into a roughly even split of males and females, with a few more females than males. This gives the breeder plenty of choice when the time comes to pick the parents of the next crop.
Cannabis plants are great at passing on their best genes, which means the better the parents the higher the quality of the next crop. Regular seeds are also photo-period and will require a light cycle in order to grow. This can be provided by the sun or by artificial grow lights. 
This strain has a flowering time of 9 weeks and can be grown indoors, outdoors or in a greenhouse. 
Remember that the cultivation of cannabis seeds is illegal in some countries, please check the laws of your country before attempting to cultivate cannabis seeds.