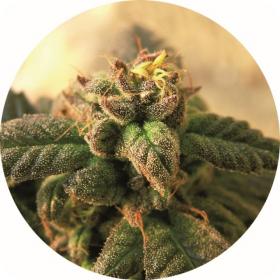 Early Top Tao Regular Seeds
Early Top Tao is an award winner and one of the fastest maturing plants around. This strain is extremely resistant to pests, mould and disease which makes it a lot easier to grow.
It can also deal with colder climates such as central Europe. Once the central bud has been cut this strain will produce a fantastic number of side branches. It is also very strong and can survive wind storms easily.
This strain produces an amazing amount of resin and has an extremely energetic effect with a psychedelic side.
This is a regular strain, meaning that it will grow into both male and female plants. Regular seeds are ideal for breeder who want to breed their own crops. For these breeders the male plants are necessary for their pollen.
The roughly even split of males and females, with maybe a few more females than males. This gives them plenty of choice when it comes to selecting the parents of the next crop.
If the breeder chooses the two best plants to breed, the quality of the next crop will improve. This is also a great way to wean out any genetic weaknesses. These plants will also be photo-period and will require a light cycle in order to flower.
This strain can be grown indoors, outdoors or in a greenhouse and has a flowering time of 8 weeks.
Remember that the cultivation of cannabis seeds is illegal in some countries, please check the laws of your country before attempting to cultivate cannabis seeds.