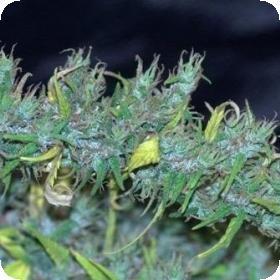 Nanda Devi is a delightful charas Sativa strain which comes from a relatively unknown region around the sacred mountain of Nanda Devi, hence the name. The name actually means 'Goddess of Bliss', this comes from the ancient cannabis traditions of Nepal.
This strain has a wonderful aroma and a soaring effect. This strain is seen as a very special charas strain in the villages which grow it.
It is believed to give a more powerful and enjoyable effect than other, larger seeded strains. Nanda Devi has a Sativa look about it, it has long and slim leaves and produce a lot of resin.
The aroma of the plant itself is herbal with a little spiciness behind it. There is a distinctly euphoric effect from the best traditional charas which originated in the Kumaon region.
The effect is very positive and uplifting, they work perfectly as a day time pain medication. This strain has an old-school feel to it and may remind people of the Nepalese strains from the 60s and 70s.
Nanda Devi, like many of the more traditional strains, come to its regular form. Regular seeds will grow into a roughly even mixture of male and female seeds and have photo period flowering.
Regular seeds are often used by breeders because using males and females is the easiest method of breeding new crops.
Breeders can select the best male plant and the best female plant to use as the parents of the new seeds. This way breeders can keep their crops at a certain level of quality, they can also breed out any unwanted genetic weaknesses in their plants.
Regular seeds are often used by groups who are trying to reintroduce cannabis into the wild.
Regular seeds, if planted in the right environment, can thrive and breed completely on their own. In this way they are a little more independent than their genetically altered cousins.
This strain can be grown outdoors or in a greenhouse. It has a yield of 1 kg or more of dry flowers when grown in an outdoor environment. Outdoors it can grow to a height of around 3-4 meters and should be harvested in October.