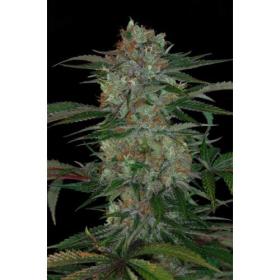 Qush is comprised of a crossing between Bubba Kush Pre-98 and Space Queen. TGA Subcool made this hybrid with the intention of increasing the overall resin production and improving on the flavour and aroma.
The result is a plant boasting impressive yields and excellent hybrid vigor. It grows with the classic short, dense kush structure, producing a sturdy plant with solid lateral branches and large round buds.
It is said to have an aroma combination of kush, with a sweet fruity candy overtone to it. The specific fruitiness of the smell is dependent on which variety is exhibited, some have a more cherry-like flavour, some more grapey, while some have more of a citrus twist.
This plant, as well as being simple to cultivate, has also been proven to be a rather effective medicine for anxiety as well as helping with nausea.
Like many of TGA Subcool's other seeds, Qush comes in the form of a regular seed. For a grower wishing only to grow the same strain of a plant exclusively, it is often agreed that a feminised seed would be the easier option for this, as only the female plants are needed.
Were a grower to breed their own crop, however, the males that are produced by a regular seed would be quite necessary.
It is this that allows the grower the freedom to customise which traits will be passed on to the next generation of their crop, keeping those more desired, while eliminating any unwanted aspects.
The regular seed is therefore still an extremely popular choice, especially among the more traditional growers out there.
This strain has an expected flowering period of approximately 55-60 days. It can be grown both indoors and outdoors, producing a high yield.
Please remember that the growing of cannabis plants and the cultivation of seeds is illegal in some countries - please check the laws of your country and don't be growing any plants if it is against your country's laws