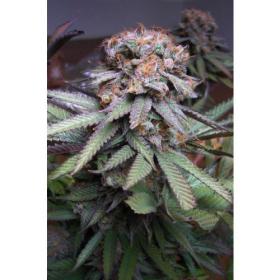 Querkle was originally bred with a mind to combine the sweet grape flavour typical of the Urkle strain, with the vigor of Space Queen.
This is an Indica dominant strain and, whilst still needing a little longer in the vegetative phase, has an overall shorter growing period than its Urkle Mother. With its outstanding yield and incredibly high THC levels it is well worth the extra vegetative time.
Querkle can exhibit in two main variations. One is the much coveted Urkle dominant phenotype, with its purple hue, smaller overall structure and well liked grapey taste, the other is more like its father strain, Space Queen, growing a little taller and producing somewhat more Sativa based buds.
The finished product produces some thick and extended purple and lime-green buds an abundance of orange and rust coloured pistils. Once harvested the dried buds have a flavour combination of grapes, fruit and berries, with a musky undertone.
Querkle comes in the form of a regular seed. Since a regular seed pack will usually produce a 50/50 split of male to female plants, this means that a grower would have the power to customise a strain of their own through selective breeding.
The ability to select those features that are preferable about a plant and diminish the less desirable traits, through careful selection of the mother and father plants, is what would make this a more attractive choice if a grower wished to breed their own crop.
This is why many more traditional growers favour a regular seed over the feminised variety, which would really only be useful for a grower wishing to cultivate exclusively the same strain.
This strain has an expected flowering period of around 8 weeks. It can be grown indoors producing a medium to high yield depending on growing conditions.
Please remember that the growing of cannabis plants and the cultivation of seeds is illegal in some countries - please check the laws of your country and don't be growing any plants if it is against your country's laws