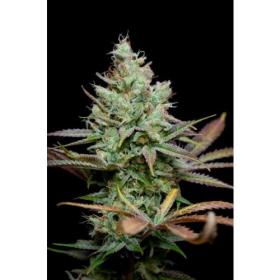 Pennywise is the result of years of research by TGA to breed a strain of Cannabis that has the high CBD content that most medical users prefer. Even some of the best medical strains out there only have 2-3% CBD, but this one is different.
How different? How does 13.3% CBD sound? No, that's not a typo. This strain is the definition of a balanced medical strain with nearly equal amounts of THC and CBD.
CBD has great potential for a broad range of medical applications. It is believed to be able to ease symptoms of various diseases, control seizures and migraines, and even prevent the formation of cancer cells.
Pennywise presents in 4 main phenotypes, all of which have most of the same characteristics in terms of flavour and aroma. All the buds also tend to take on at least some degree of purple.
The two notable differences between the pehnos is in the bud structures and dominant colours. The buds can be long or round and can present either in bright green or purple.
The CBD provides a particularly relaxing and analgesic effect. The high CBD content is credited to the Harlequin mother plant while the overall invigorating effect is attributed to the Jack the Ripper father.
The mingling of these great genetics produces an amazing remedy with true medicinal applications that leaves the head nice and clear.
The flavours also fluctuate between phenotypes. Some have distinct flavours of pepper or ground coffee and some have a sweeter lemony, bubblegum flavour.
The plants grow to a short to medium height making them ideal for any growing environment both indoors and outdoors. They require only basic nutrients and standard lighting cycles when growing indoors.
Outdoors, they require even less maintenance and will produce a bit better. Flower time indoors or out is typically between 60 and 67 days.
Genetics:
Harlequin x Jack The Ripper