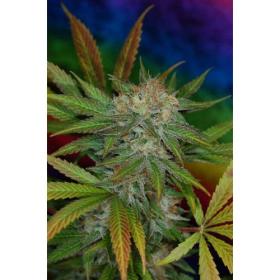 This strain is made up of a combination of Orange Skunk, Romulan and Cindy 99. The resulting hybrid is a remarkably stable strain.
The finished plant is said to develop into a rather stout bush with an abundance of lateral branching and a good production of lime green buds with bright orange hairs that, upon maturity, can transform into a deep burgundy or maroon colour.
It is said to have a range of flavours from a more tangy orangey citrus taste to sweeter varieties that taste like candy, mango, and apple.
This strain's extremely sturdy and large central stems and rather large top colas make it a delightfully simple plant to grow in both indoor and outdoors conditions.
With this strain being a regular seed, this is also what makes it much more flexible for a grower, in terms of breeding, than other feminised seeds available.
Feminised seeds could be quite helpful for a grower if their desire is to grow the same strain exclusively, since only the females are needed in this situation.
If a grower were to breed, however, a regular seed would provide the male plants needed and therefore the control over the future crop.
This would allow a grower to select only the best mother and father plants, passing on the desirable traits whilst eliminating the parts of the plant they do not wish to take to the next generation.
This ability to customise the crop is what often draws the more traditional grower to this type of seed.
A grower could expect this strain to be ready for harvest within a time period of 8 weeks. It is suitable for both indoor and outdoor growing conditions, producing a high yield overall.
Please remember that the growing of cannabis plants and the cultivation of seeds is illegal in some countries - please check the laws of your country and don't be growing any plants if it is against your country's laws