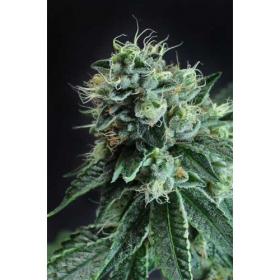 After two long years of experimenting with Kush mother specimens, the breeders at TGA Subcool settled on a Hells OG Cut that was head and shoulders above all the rest and used it to create a great new strain. That strain became Jesus OG.
Of course, it's a fitting moniker for a strain that is the progeny of a trinity of some of the best parents around. The Hells OG was crossed with Jacks Cleaner and Space Queen to create a mostly-sativa hybrid that is nothing if not divine.
There are two main phenotypes that dominate Jesus OG. One has a strong lemon scent and has a high Lemonene content. The other is a highly Kush-dominated variety and is a favourite among the breeders. The typical Kush flavour mixes with the subtle undertones of tangy fruit and lemon. The Kush flavour happily stands aside to let the fruitiness in both the flavour and aroma come through.
You will know when you've been touched by Jesus OG. The effect is powerful and immediate and is everything a great sativa should be. With very high THC, this is no lightweight strain. It is very uplifting and will leave any user feeling energised, motivated, and inspired.
These plants grow tall regardless of the phenotype so indoor growers should take note. High ceilings and plenty of space will be needed to pull off growing this strain indoors. They respond best to a 12/12 light cycle during flowering and that flower time is extremely fast for a sativa. Only 56-63 days and they're done.
Outdoor plants will seem to ascend to the heavens as they stretch and grow, developing an abundance of amazing buds. The harvest time is average and can begin around 1st October in most parts of the Northern hemisphere.