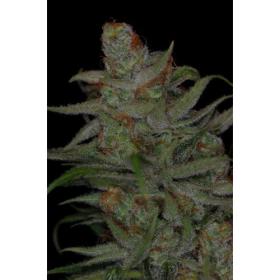 Jack Skellington Regular Seeds
Jack Skellington is the result of crossing an immensely resinous, G-13 dominant phenotype of the Killer Queen with a male Jack The Ripper, thus creating a new strain possessing all of the outstanding resin production paired with a very pleasant citrus flavour.
The finished Jack Skellington plant is said to be rather a tall and wide plant with a genetic split of around 70% Sativa to 30% indica. But should be topped to control the height and to stimulate branching.
It produces somewhat spear-shaped, large and compact lime-green buds, with an excellent amount of resin cobbering and surrounding them.
The flavour of this strain has been described as having the distinctive combination of citrus and sweet fruits with a hint of Haze, that is so indicative of the G-13 strain.
This seed is one of the many regular varieties that TGA has on the market.
While many would agree that feminised seeds are the easier option for growers cultivating one strain exclusively (as the males are not needed in this process), for a grower wanting to create a customised crop, a regular seed is the obvious choice.
The males produced are essential to the breeding process, as it is the pollen from the male plants that allows fertilisation to occur. The grower would then pick the phenotypes in line with their own preferences for the mother and father plant, allowing only these to breed.
The resulting offspring would then take on only the best traits from each strain and not those deemed weaker by the breeder.
It is this freedom to tailor a crop to ones own personal preferences that attracts many growers, particularly of the more traditional sort, to a regular seed, as opposed to its more user-friendly counterparts.
The expected flowering time for this strain is around 8 weeks. It can be grown both indoors and outdoors and can produce a yield of a medium to high size.
Please remember that the growing of cannabis plants and the cultivation of seeds is illegal in some countries - please check the laws of your country and don't be growing any plants if it is against your country's laws