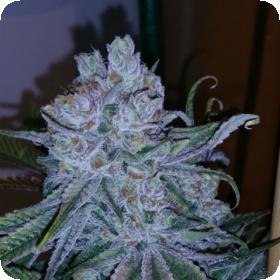 Go Time is a 65% sativa strain with special qualities. Not only is it energising and uplifting but it also provides relief from chronic pain and even has mood altering properties that could be described as aphrodisiacal.
Go Time also exhibits extreme pungency in terms of its flavour profile which ranges from lemon diesel through to Skunk-y cheese with sweet, rotten and earthy Kush notes.
Go Time results from crossing Norton with JOG Kush and produces large colas that are packed with swollen, resin-coated calyxes to form rock-hard buds of goodness in 58 - 63 days of flowering indoors.
It is easy to grow and delivers very heavy yields. Go Time can also be grown successfully outdoors in warmer climate regions.
There are two main pheno-types of this marijuana strain; the first is the purple one with a very heavy Skunk-cheese smell and this benefits greatly from pruning in the early flowering period to help the main colas really pack the weight on.
The second pheno is the green one with markedly more stretch in flowering, greater sativa-dominance and a lemon-diesel aroma.
Staking, tying or SCROGging is recommended for both as yields and buds are heavy! If you are searching for euphoric, uplifting cannabis with high yields then you have just found it.