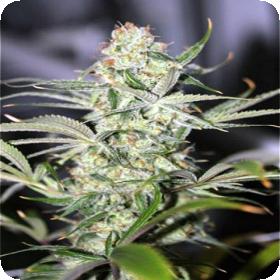 Galactic Jack Regular Seeds
Galactic Jack is a sativa-dominant hybrid that is a truly special plant in the TGA Subcool catalogue.
It represents the breeder's effort to pass along not just some awesome genetics, but also keep alive the memory of Jack Herer - one of the cannabis community's best known and most committed activists.
What makes it so especially funky is its apparently backward parentage. Jack Herer is the mother plant while a male Space Queen provides the father genetics. The resulting plants are extremely vigorous and love to stretch.
They can be grown indoors but it is recommended to use soil and pots as they do grow very tall and can be difficult for some hydro setups. Tall ceilings are also a must. Standard light cycles will work well with all phenotypes.
Outdoors, it's basically a free-for-all. The plants will not require an abundance of attention - just let them grow and stretch and prepare to reap an impressive harvest of some great-quality bud.
The flower time is a little on the long side at about 60-70 days average, but they flower within a typical timeframe outdoors. Plan harvest to begin on or around 1st October.
About those phenotypes... there are at least four and one of them really brings out the Haze characteristics in look, flavour, and effect. To the experienced grower, it should be obvious if one of those makes an appearance.
If it does, cutting a few clones is recommended. The remaining three all have the basic characteristics of Jack Herer.
The aromas of each pheno follow the same basic profile: loads of citrus goodness including lemonade and grapefruit. The effect is the same across the board as well: a typically sativa energetic and uplifting experience that leaves the user functional and the head clear.