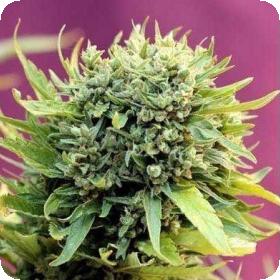 Dairy Queen Regular Seeds
Dairy Queen is an excellent strain made up of a combination of Cheese, Romulan and Cindy 99. It is renowned for its intense stench and flavour. This potent aroma is due in part to its Skunk strain Cheese roots and also to the Sativa dominant Cinderella 99.
It is this that gives it a somewhat lemony hint. Romulus also adds its own spicy and fruity aroma from its entirely indica sources. The resulting plant can have a few variations, but maintains an extremely fruity tone at all times.
The buds themselves are of an average size, with an inordinate amount of resin production, indicative of the potency of the plant once mature.
Dairy Queen is 60% Sativa and 40% Indica and the plants can exhibit a few different phenotypes, some closer to the Sativa component, some with more Indica characteristics and some a combination of both phenotypes.
Dairy Queen in popular among medical growers for it stress, anxiety and depression relief properties, as well and its capacity as a painkiller.
This being a regular seed, it will be quite popular with the more traditional growers out there. Many agree that the feminised variety is a much more user-friendly option if a grower were looking to grow only the same strain and nothing more.
For a grower wishing to breed and cultivate their own varieties, however, the obvious choice would be a regular seed.
This would allow the grower to pick and choose the traits that they find desirable in a strain and selectively breed to ensure that these aspects are kept, while being able to remove those aspects that are less needed or wanted.
The next generation would therefore be customised to growers own preferences.
This strain has an expected flowering period of around 7-8 weeks. A medium level yield can be expected in both indoor and outdoor growing conditions.
Please remember that the growing of cannabis plants and the cultivation of seeds is illegal in some countries - please check the laws of your country and don't be growing any plants if it is against your country's laws.