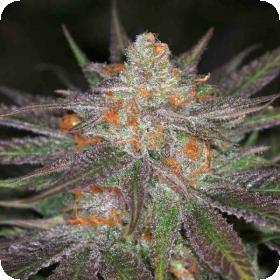 Conspiracy Kush Regular Seeds
Conspiracy Kush is an indica-dominant hybrid that is full of surprises. Its parent strains are among the funkiest to appear within the last decade or so: Obama Kush and Space Queen.
With five main phenotypes (and apparently more that are less common), this is one strain that is anything but boring. There are similarities, of course, but there are also enough variations to find a favourite and start cutting clones.
One thing that all the phenos have in common is the total size of the plant. All of them can be grown easily in any grow room. They even work well in specialised setups and don't have varying preferences for light cycles or nutrients.
They also tend to flower at the same rate, and they flower fast - about 55-60 days on average.
The bud structure is also very impressive across phenos: thick, dense, and shimmering white with resin once fully mature. One neat variation is in the colours. Some phenos take on a bubblegum pink tinge while others become deep purple as they grow and mature.
All of these amount to awesome bag appeal.
Outdoor plants are around the same size as indoor plants and yields are also comparable. They still flower fast but often take a little longer than indoor plants. Harvest time begins on or near 1st October and can continue until nighttime temperatures drop below freezing.
The effect of Conspiracy Kush is fast, heavy and euphoric. With very high THC this is one you really can't expect anything less. The flavour and aroma does vary between phenos, but all have pleasant fruitiness and a sour citrusy funk.
Don't miss the chance to experience this great strain and all the surprises it brings with it... and don't forget to cut a few clones of the plants that produce and look the best.