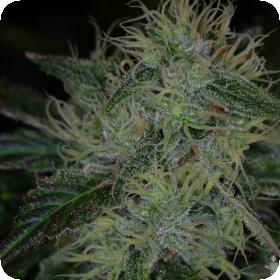 TGA Subcool's Chernobyl is made up of the female genetics of the outstanding Trainwreck strain, a legend in its own right, with the rather extraordinary and scarce Trinity and Jack The Ripper a very well-received Haze strain.
The resulting plant is that of a short growing time with the capacity to produce some exceptional yields. It is said that the plant itself is best to have an early topping and careful trimming in order to create a more bushy plant, with a good amount of branching.
With some of the phenotypes this plant can take on a deep reddish or purple tone to it because of the Trainwreck genes present.
The buds are said to have a somewhat tapered shape to them, maintaining their lime-green hue and producing an impressive amount of resin, as well as a distinct citrus sherbet flavour. This strain boasts a high THC level and only 0.1% CBD.
Chernobyl is regular seed, making it a popular variation among growers, as it is easily customisable to a grower's own tastes.
As opposed to feminised seeds, which would mainly be used for cultivation of the same strain, regular seeds would allow a grower to develop the best parts of the strain for future crops.
This means they would be able to keep the impressive aspects of each plant, while eliminating any trait they may not want carried on into the next generation.
This flexibility when it comes to a growers preferences for a plant is what makes it so popular, especially with the more old school growers.
Considering its slight Sativa dominance, this strain is a rather fast growing variety, with an expected flowering period of around 8 to 9 weeks.
It can be grown both indoors and outdoors and generally produces a medium yield in both conditions, with the capacity for higher yields.
Please remember that the growing of cannabis plants and the cultivation of seeds is illegal in some countries - please check the laws of your country and don't be growing any plants if it is against your country's laws.