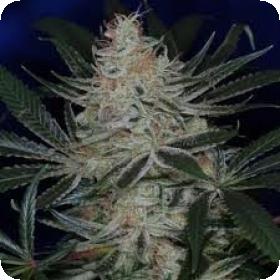 Jack the Ripper Regular Seeds
Jack The Ripper is a strain with an extremely varied gene pool, comprising of a mix of Pluton, Purple Haze, Lambsbread, Northern Lights, Jack Herer, Romulan, Cinderella 99.
While all of these strains separately may not be as familiar, the combination could also be described as a crossing of Jacks Cleaner and Space Queen.
Jacks Cleaner is a mixture of the first four strains in this list with a male Jack Herer, it is a large, very high yielding Sativa strain with excellent resin production, making it very highly sought after worldwide.
It has a very strong aroma of lemon and musk. Romulan and Cinderella 99 are then left, which when combined make Space Queen, a very potent strain with flavours of citrus and skunk.
The overall combination of these strains results in an outstanding hybrid that was in the High Times Top Ten List in 2006, as well as being featured in The Big Book of Buds 3 (pages 86-89).
Jack The Ripper can exhibit with two main phenotypes, each share the Lemon Haze smell, however one variant also has a more distinct pine smell to it.
A grower would be advised to trim this plant carefully, with a large vegetative growth period to obtain the maximum yield. The finished product shows incredible resin production, not only on the buds, but the leaves as well.
The flavour is as the aroma would suggest, only with an extra hint of mango that lingers on the tongue.
Jack the Ripper is regular seed, making it a popular variation for the more growers out there, as it is easily customisable.
As opposed to feminised seeds, which would mainly be used for cultivation of the same strain, regular seeds would allow a grower to develop the best parts of the strain for future crops.
This means they would be able to keep the outstanding aspects of the plant, while eliminating any trait they may not want carried on into the next generation.
This flexibility when it comes to a growers preferences for a plant is what makes it so popular, especially with the more old school growers.
A grower could expect this plant to finished within 8-9 weeks. It can be grown both indoors and outdoors, with a medium to high yield.
Please remember that the growing of cannabis plants and the cultivation of seeds is illegal in some countries - please check the laws of your country and don't be growing any plants if it is against your country's laws