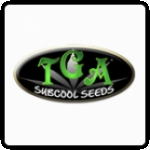 TGA Subcool Seeds is a brand which focuses on medical marijuana and was started up in 2001. This group of experienced breeders got sick and tired of the normal standards of medical marijuana and so instead started to source information from thousands of other medical marijuana growers so that they could improve their standards. This research was not wasted and 10 years later they had created 24 brand new and unique strains of top quality cannabis, each of them completely individual and created to thrive in specific conditions.
Their website has an amazingly helpful strain guide as well as a vast library of their finest strains. They focus on their genetics and on creating the most impressive strains they can rather than simply concentrating on seed distribution and making money. They were very unhappy with the general standard of medical marijuana that was being sold to the unsuspecting public and they have created strains which are extremely effective in relieving pain, nausea, swelling, tremors, nerve pain anxiety, and social disorders to name a few.
They focus primarily on what they can do to help people everywhere with their high quality produce. They don't sacrifice quality in order to produce user-friendly seeds such as feminised and auto flowering seeds which are born by combining low potency Ruderalis with common hybrids. They don't particularly care if these seed types are easier to grow because what is the point in having medical marijuana that is easy to grow but ineffective. Instead they have spent their time perfecting their strains which has obviously been successful as they have many very popular strains such as their flag ship high THV-C Jack The Ripper and their award winning strain Vortex.
They believe in effective, well grown medicine rather than advertising, profits, and false claims.
Please remember that the growing of cannabis plants and the cultivation of seeds is illegal in some countries - please check the laws of your country and don't be growing any plants if it is against your country's laws.