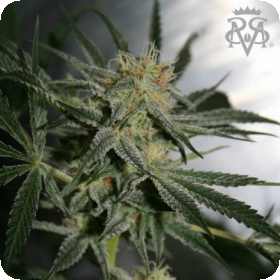 Wonder Kush Regular Seeds
SickMeds Wonder Kush Regular This most recent offering from SickMeds is a cross between the exceptionally potent William's Wonder male and a high-quality F3 Jedi Kush female.
The genetics of the William's Wonder makes the plants less lanky than the original Jedi Kush, and the Jedi Kush adds an ample abundance of trichomes. The flavour is also an improvement making Wonder Kush great for passing around.
The plants take on the look of shimmery powdered sugar and give off an aroma of sweet fresh lemonade. Some of the aromas carry over from William's Wonder but the citrusy edge is all Jedi Kush.
There are some particularly earthy and musky undertones mingled with pine and grass. It evokes images of a leisurely stroll through the woods on a cool spring morning.
The flavours of Wonder Kush are a tempting combination of both parents with smooth, creamy lemon mingled with a hashy, kushy pine. All of the flavours are very subtle and are a real treat for the palate.
The effect of Wonder Kush is one of pure bliss - a light, pleasant sensation that produces an upbeat, positive mood. It produces a soft, full-body mellow yet it leaves the user completely functional - no couch-locking here.
This is a great strain to enjoy at any time of day. It also promotes creativity and hours of deep thought and contemplation.
Medical users will enjoy its ability to combat anxiety and stress as well as a host of other ailments including nausea, joint and muscle pain, migraines and the adverse effects of various medical treatments.
THC is very high with a low CBD count. Those using Wonder Kush for therapeutic purposes should be aware of its potency. This is a great strain for growing both indoors and outdoors. It finishes after anywhere from 55 to 65 days, depending on the growing environment.
Genetics:
Jedi Kush F3 x William's Wonder F1