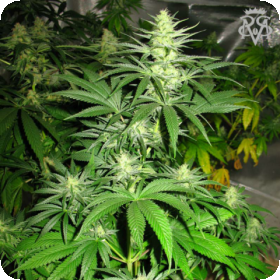 SickMeds Seeds Chupacabra Regular
Chupacabra is a sativa hybrid developed in-house by SickMeds. It is a cross between two already interesting and unique parents: The Wreck and Strawberry Fire.
The breeders selected two of their best specimens, both of which had great productive capabilities and buds that were absolutely soaked in sticky, delicious resin.
The strategy worked well and now you get to see the results for yourself! Possibly the biggest selling point for this strain is its fast flower time.
Chupacabra finishes after about 9 weeks but will be even better if left for an even ten (That's about 65-70 days on average). This is a plant that is easy to grow and produces great yields no matter where it is cultivated - generally in the range of 450-550 g per square metre.
Growing indoors, be sure to have enough vertical space for a typically-tall sativa to stretch. Potting and other soil methods work best but the plants grow just fine in hydro setups as well.
They are not overly sensitive to moulds or fungi so humidity is also not a major concern. This works out well for outdoor growers since the plants will not require an abundance of attention to flourish.
Outdoor growers should plan to harvest Chupacabra by early- to mid-October and avoid exposing it to frost. The aroma of Chupacabra is very typically Kushy with strong notes of incense and hash.
The hash quality is dominant in the flavour as well. The buds have a unique oily and citrus aroma. The sweet lemon and bitter pine create a scent that really awakens the senses and adds to this variety's allure.
Light it up and the effect is strong but leaves the user in a clear-headed state nonetheless. This is a great strain for some late-day attitude adjustment and has various medical applications as well, including pain management and stress reduction.
Genetics:
Trainwreck IBL BCO x Strawberry Fire