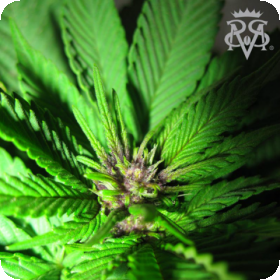 SickMeds Seeds Bizarre Regular
You might have heard of this one under the name Ultraviolet. SickMeds Bizarre is a unique hybrid bred for its deep purple and red leaves. It has a taste that is much like Diesel but a bit sweeter and smoother on the palate.
The strain originates with a cross between Black Rose by Heath Robinson and Double Purple Doja by Outlaw. That particular hybrid was widely known as Boognish Rising.
After much experimentation and with the consent of the original breeder, SickMeds is perpetuating this journey. They started with a back-cross to their own Black Rose 9.
After a few trials grows they tried crossing Boognish Rising BX with a specific pheno of their Double Sour Diesel (which is where the strong Diesel flavour originates). Bizarre is predominantly indica and grows well both indoors and out.
It responds nicely to topping and grows tall and fast when it begins to bloom. Indoor growers with limited vertical space can definitely work with this strain but topping is a must as these plants stretch considerably.
Topping will not affect overall yield but it will make the plants much more manageable. The plants finish after about 55 days on average and yield upwards of 400-450 g per square metre.
Best of all, they practically grow themselves with little demand for excess nutrients. Indoor specimens yield comparably to outdoor ones. Plant these seeds wherever works best for you and they will produce nicely.
There are several known phenotypes of Bizarre. They are distinguishable by various characteristics including smells reminiscent of Rotten Berry, Spice and Citrus Diesel. Most phenos have the same signature purple leaves.
Bizarre also has medical applications and is regarded as good therapy for pain management and relief from
Genetics:
Double Sour Diesel x {Black Rose x (Black Rose x Double Purple Doja)}