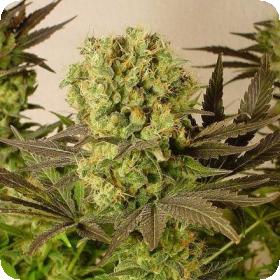 Serious Seeds are proud to announce that they have incorporated 5 new strains that were originally developed and sold by Magus Genetics. The assortment of this small Dutch Seed Company fits perfectly into the Serious Seeds menu.
Just as Serious Seeds Magus has produced only a few seeds with unique and superb characteristics because of their outstanding quality, they have won several awards and, more importantly, they are very much loved by the people who have tried them.
This Indica short / squad plant is the final creation of a long process. In the parent line, older plants 'Starwarz' & 'Medizin Power' have been blended into this ideal indoor plant.
A thick layer of resin glands on flowers and single leaves makes manicure less necessary and gives it a popular presence in every growing room. Excellent for indoor and closet rooms with limited height. A powerful aroma, sweet with undertones reminiscent of fresh paint, develops during flowering.
The effect is an over-whelming body stoned ness, nailing you to the couch while your mind is energised by creative ideas. Running them, however, will have to wait for the effects to wear off.
Any 'boring' feelings will fall away after the 'Motavation' hit! The medical plant!