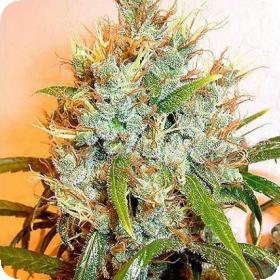 Possibly the best sativa strain available right now. 
Kali Mist, which is 90 percent sativa genetically, grows into towering, running, characteristically sativa plants with minimal leaves. 
This strain produces thick clusters of full fluffy buds, yielding significantly higher than expected. 
The plant structure and sparse leaves let light to penetrate all the way to the lower branches, allowing bottom buds to fully develop. 
When planted outside early in the year, this plant can grow to be rather tall, with spiralling flowers, a high resin content, and a delectably spicy aroma. 
Experts frequently choose Kali Mist for their own personal growth. 
Also, women tend to prefer this strain; in addition to the pure joy of smoking it, we've heard multiple reports that it works well for menstrual cramps. 
Kali Mist was upgraded in 2000 to provide higher yields, and we are delighted to announce this. 
It proven to be exceptionally mould resistant in Spain, even when left outside during harsh weather. 
This strain has a flavour and subtle mental effect that earned it a Cannabis Cup first place in 1995 (Hydro Cup) and again in 2000 (Seed Company Sativa Cup)! Without a question, the preferred option for connoisseur stash. 
It produces a strong, clear, and invigorating high.
Genetics:
2 Sativa Dominant Hybrids