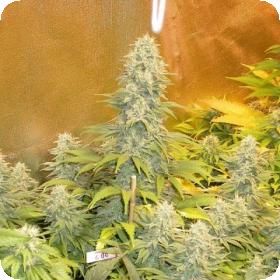 Double Dutch Regular Seeds
Serious Seeds are proud to announce that they have incorporated 5 new strains that were originally developed and sold by Magus Genetics. The assortment of this small Dutch Seed Company fits perfectly into the Serious Seeds menu.
Just as Serious Seeds Magus has produced only a few seeds with unique and superb characteristics because of their outstanding quality, they have won several awards and, more importantly, they are very much loved by the people who have tried them.
Double Dutch is a cross between a Warlock male and a Serious Chronic. During vegetative growth, Double Dutch shows its Indica side with wide leaves, heavy stems and a bushy growth pattern. In the flowering stage, Double Dutch produces giant Sativa buds, like his mother; the Chronic.
Any tips that receive enough light will form huge buds similar to elongated popcorn balls. Double Dutch buds must be at stake because of their heavy weight.
The Double Dutch scent is a pleasant fruity wildflower scent. The effect is complex and strong; the high and pleasant cerebral body effect has given this plant several awards.
Genetics:
Warlock x pre-2000 Chronic