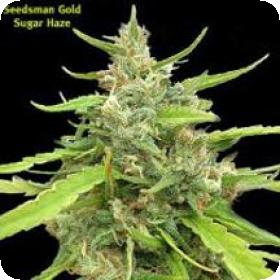 Imagine a Haze variety that carries genetics that make it perfect for growing in virtually any outdoor environment (except snow, but that's just common sense). Now imagine that someone took Haze and cut it with a strain that is known for that kind of adaptability and formability.
Such a strain is Sugar Haze.
This powerhouse strain from Seedsman carries the iconic Haze genetics crossed with Santa Marta, a plant whose ancestors hail from the Sierra Nevada de Santa Maria in Columbia. If ever there was the perfect environment for growing cannabis, this is it.
The dry warm climate coupled with the temperature fluctuations typical to any mountain region have taught these plants how to be survivors and how to thrive under those circumstances.
Santa Marta, the cannabis strain, has a roughly 40-year history and is a much sought-after variety among seasoned cannabis growers and enthusiasts alike. Couple it with the quality of Haze and you get a strain that is unlike anything any grower or user has experienced before.
It pulls the best traits from both of its parent strains and with a high THC content, one hit is enough to tell any user that these buds mean business.
The plants grow hardy and tall and flower quickly - about 9 weeks on average. When grown indoors, they work well under controlled conditions, but they are just as hardy grown outside, even with drastic variations between daytime and nighttime temperatures.
They do prefer bright sunshine but a few cloudy days won't be a deal-breaker. The best ways to grow these plants are either outdoors or in greenhouse setups, owing mostly to the size of the plants and their tendency to branch.
They are an easy grow for experienced cultivators as well as those just coming into the craft and produce well with just a little maintenance and care.
Please remember that the growing of cannabis plants and the cultivation of seeds is illegal in some countries - please check the laws of your country and don't be growing any plants if it is against your country's laws.