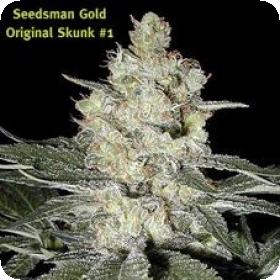 Original Skunk #1 Regular Seeds
Skunk #1 is one of the oldest and most popular strains around and it has influenced cannabis breeding worldwide. It was first created in the late 1970s and is a combination of Afghani, Acapulco Gold and Colombian Gold.
These genetics come from all over the world and a selective breeding process, spanning several generations, yielded Skunk #1. Skunk #1 is now the primary parent in much famous cannabis strains all over the globe.
This strain has been used by all of the biggest breeders around including Sensi Seeds, Dutch Passion, Nirvana Seeds, Flying Dutchmen and Royal Queen Seeds. The scent of the strain is much what one would expect.
It has a sweet smell and taste with a cerebral high. Medicinally it can help with stress, appetite loss, depression, pain, nausea and fatigue.
Skunk #1, being an old school strain, come into its regular form. Regular seeds have gone down in popularity over the years and many breeders no longer provide them. However, companies like Seedsman like to ensure that every aspect of their clientele is catered to.
Regular seeds have not been altered in order to render them more user-friendly. This means that they will grow into a combination of male and female plants and will use photo-period flowering.
Regular seeds are often used by breeders as the easiest method of breeding involves the male pollen. Since the breeder is presented with such a wide range of males and females they can select the very best two to be the parent plants.
This not only ensures the quality of the crop remains the same, or improves, but is an excellent way to wean out any genetic weaknesses.
Regular seeds are also often used by those who would like to see cannabis reintroduced into the wild. Regular seeds, is placed in the right environment, can grow and thrive completely on their own.
This strain of Skunk #1 can be grown indoors or in a greenhouse.
Genetics:
Afghani Indica / "Acapulco Gold" Mexican Sativa / Columbian Gold Sativa