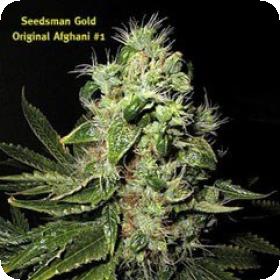 Original Afghani #1 Regular Seeds
It's the original and best of its kind. Afghani #1 hails from the mountains of Afghanistan and is a true landrace strain. First introduced by Sacred Seeds way back when (all the way back in the 1970s), this was one of the first strains used for breeding pure indica strains.
Since then, Afghani has made its way around the world many times over and has been used in numerous hybrid projects wherein the absolute best genetics are needed for the desired outcome.
Afghani is known best for its dense, resinous buds and its usefulness in making hash. Yes, these plants pull double-duty, and they pull it with style.
Even better, its rugged genetics make it a great strain for growing even in Northern climates where temperatures can fluctuate considerably.
Through a very selective process of cross-breeding, Seedsman has managed to push the envelope even further. These seeds will germinate and grow practically anywhere, and they never disappoint when it comes to yield. If you are an indoor grower, never fear.
These plants respond well to indoor growing and are small enough for most grow rooms and setups, including SOG and ScroG. They will grow a little bushy, but even so, they will allow a lot to be grown in a small space.
Only those plants that express the most desirable traits have gone into the creation of these seeds. The plants present with a strong yet pliable central stem and numerous branches with a good number of flower sites.
As for smell and taste, think of the best indica you've ever had and amplify the quality several notches. There is a reason why these genetics are so in-demand. These plants have to be seen (and smelled, and tasted) to be believed.
Yes, this strain is that good and, once you've had a go, we are sure you will agree.
Please remember that the growing of cannabis plants and the cultivation of seeds is illegal in some countries - please check the laws of your country and don't be growing any plants if it is against your country's laws.