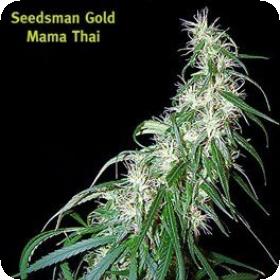 The breeder regards Mama Thai Regular as being among the best they offer, and for good reason. Few strains get better feedback from growers and enthusiasts when it comes to flavour and effect.
It isn't the most abundant producer, but what Mama Thai seemingly lacks in quantity, it makes up for well in quality. It is also exceptionally potent, proving once and for all that big things definitely can come in small packages.
This early-flowering strain is very vigorous and presents in several phenotypes, each equal in quality with certain unique physical characteristics.
The breeders at Seedsman have put a great deal of effort into isolating the best phenotypes, perpetuating the genetics of those with the shortest photoperiods. Most plants finish in about 11 weeks on average and present high-quality buds with very high THC.
Needless to say, this is not a strain for the casual or first-time user. Veteran enthusiasts, however, are in for a huge treat.
The effect of Mama Thai is very typically sativa. It leaves the user feeling invigorated and alert and really gets the creative juices flowing.
The high THC content can have an overtly hallucinogenic effect for some users, especially in larger doses. Be warned: its high ceiling is conducive to just that!
Growers report that it is advantageous to grow Mama Thai indoors, owing mostly to its longer-than-average flowering period, but it can be grown outdoors in warmer climates with good results. Greenhouse growers will find that Mama Thai responds well even in colder weather.
These plants are not as sensitive to temperature changes as they are to frost. For this reason, outdoor growers should plan on an early harvest to avoid damaging the crop. The plants should be fully harvested by early November when grown in the Northern Hemisphere.
Please remember that the growing of cannabis plants and the cultivation of seeds is illegal in some countries - please check the laws of your country and don't be growing any plants if it is against your country's laws.