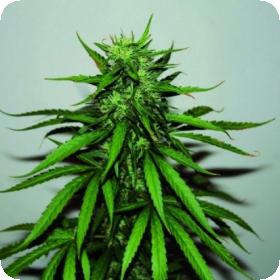 Jungle Wreck Regular Seeds
Sometimes the best things in life get here by accident. Such is the case with this quirky yet potent strain from Seedsman Seeds.
As the story goes, one of their breeders was doing a little experimenting and got a little confused about the genetics that went into a few of the plants. As they grew, however, the breeders at Seedsman knew they had stumbled onto something unique, so they decided to run with it.
The result is Jungle Wreck.
So, the exact genetics of Jungle Wreck are a bit of a mystery. Seedsman has taken an unknown strain of high-quality Columbian cannabis with mostly-indica traits and crossed it with another indica strain with overtly citrus qualities in flavour and smell.
Some growers have speculated that there are strong traces of Santa Monica Gold in Jungle Wreck, but the exact parentage? The world may never know.
The result is a delicious, lemony indica which, with high THC content, packs an impressive wallop. Looking for a good couch-locking, head-filling sativa that smells and tastes great? Then why not try a bit of Jungle Wreck!
Indoor growers will appreciate how the dominating indica genes keep the size of the plants manageable. A good bit can be grown in a small space.
The plants can be a little bushy, but proper pruning should keep each plant to itself and promote the formation of even more potent flower sites. Best of all, the flower period is only about 8 weeks.
These plants are also very aesthetically pleasing, which is likely no small part of the reason why the originals didn't get scrapped in the first place.
We are thankful for the opportunity to keep these seeds circulating, and we are sure they will provide a unique and satisfying edition to any cannabis garden.
Please remember that the growing of cannabis plants and the cultivation of seeds is illegal in some countries - please check the laws of your country and don't be growing any plants if it is against your country's laws.