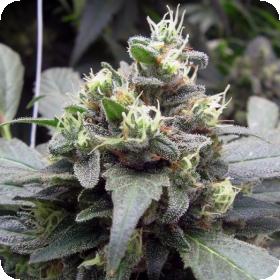 BC Mango is a powerfully potent strain with an extremely distinct mango taste and scent. This strain is Indica dominant and an easy to grow plant with a stout structure which produces buds coated in snowy resin.
It is a combination of Canadian and Dutch genetics and is ideal for indoor growing. This strain is ideal for those who grow commercially and those who grow for personal use.
It is a heavy hitting strain with a powerful Indica effect, this makes it ideal for night time use and for relaxation. It was awarded a High Times Top 10 Strain of the Year in 2009. Over all BC Mango is an excellent and impressive strain which is certainly worth a try.
BC Mango comes in the form of regular seeds. It is often thought that regular seeds are inferior to their genetically altered cousins autoflowering and feminised seeds.
However, this is not necessarily true, they are simply not as easy to grow. Many old school growers and breeder much prefer the original, regular seeds. The breeders at Reeferman are aware of this and want to ensure that all possible customers are catered for.
Regular seeds are primarily used by breeders since the crops are comprised of male and female plants. This makes for easier and more convenient breeding.
Also since the crops are a roughly even split of males and females, although often there are more females than males, the breeder has a number of plants to choose from when considering the parent plants.
Selecting the parent plants is extremely important since these plants will dictate the quality of the next crop.
This is an opportunity for a breeder to improve their crops and wean out any genetic weaknesses present in previous crops. Regular seeds are also often used by those who plan to reintroduce cannabis into the wild.
This is because, if placed in the right environment, regular seeds can grow and breed completely on their own.
This strain is very versatile and can be grown indoors or outdoors. It has a high yield and is an Indica dominant strain.