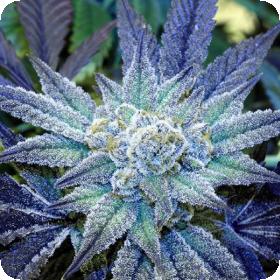 Night Terror OG Regular Seeds
This strain is a combination of Blue Dream and Rare Dankness #1 OG. Night Terror is an extraordinary medicinal strain whose name errs slightly towards the ironic.
This strain is recommended for those suffering from PTSD and insomnia as well as Glaucoma, AIDS, gastrointestinal issues. It is also ideal for those going through chemotherapy.
This strain will grow to a relatively impressive height and produce high yields of dense, resin coated buds. The effect is extremely long-lasting and cerebral with a delightful full body relaxation. 
Night Terror OG is a regular strain, which means that it will grow into both male and female plants. Regular seeds are primarily popular with old school growers and breeders. They are especially good for breeders, who need the male pollen in order to cultivate their own crops.
The split of males and females is roughly even, which gives the breeder plenty of choice when it comes to selecting the parent plants.
These parents will determine the quality of the next crop, so this is an excellent opportunity to improve the future plants whilst removing any genetic weaknesses. 
This strain has a flowering time of 60 – 70 days and can be grown indoors or outdoors. 
Remember that the cultivation of cannabis seeds is illegal in some countries, please check the laws of your country before attempting to cultivate cannabis seeds.