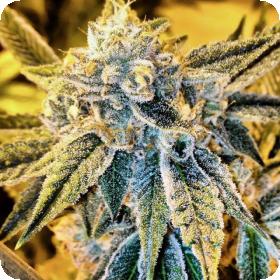 This strain is a combination of Katsu Bubba Kush and Rare Dankness #2. This strain is completely covered in trichomes and produces extremely impressive yields. It can be grown in most environments and is ideal for all sorts of growers and breeders.
The buds are a beautiful dark purple with a scent of sweet citrus. The fan like leaves end up completely covered in resin and the indica dominant strain has a delightfully relaxing effect.
Cornbread is a regular strain which means it will grow into a 50/50 split of male and female plants. It will also require a light cycle in order to flower.
Many old school breeders and growers still much prefer regular seeds because of their reliability and durability. Regular seeds are by far the best choice for breeders, who require the male pollen to create their next crop.
This also gives the breeder more control over the genes going into their future plants as they will select only the best plants to pass on their DNA.
Regular seeds are also ideal for guerilla growing as they can survive quite happily in their natural environment without human intervention.
This strain can be grown indoors, outdoors or in a greenhouse and has a flowering time of 60 - 65 days.
Remember that the cultivation of cannabis seeds is illegal in some countries, please check the laws of your country before attempting to cultivate cannabis seeds.
Genetics:
Katsu Bubba Kush x Rare Dankness #2