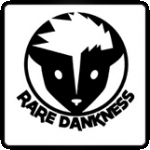 Rare Dankness was founded in 2010 by Scott "Moonshine" Reach, who is no stranger to breeding. Scott has been a staple in the online growing community for over 10 years, and is also the man behind Moonshine Seeds. Through his global network of some of the best growers in the world, Rare Dankness has been able to work with some of the most desired and highly craved genetics. Their accumulation of genetics spans the last 30 years and embody the best strains of Cannabis in the world.
Rare Dankness's aim is to supply the best quality genetics to the Medical Marijuana community. Rare Dankess believe the road to legalization is through education.
Rare Dankness strains such as Moonshine Haze, Rug Burn OG and Ghost Train Haze are all the rage among cannabis connoisseurs worldwide because Rare Dankness created a sweet collection of stable, reliable and unique marijuana strains.
You would be hard pressed to find a more popular seed company in Colorado today than Rare Dankness. Ever since they won first place for best Sativa at the 2011 High Times Cannabis Cup with their moonshine haze, people can't seem to get enough of their genetics, and they have gone on to win many other marijuana awards. It's not surprising why its seeds are among the top sellers at seed banks worldwide.
Please remember that the growing of cannabis plants and the cultivation of seeds is illegal in some countries - please check the laws of your country and don't be growing any plants if it is against your country's laws.