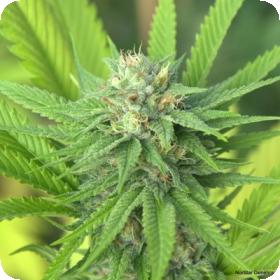 The Mission Regular Seeds
Norstar Genetics pride themselves on their commitment to creating great CBD strains that are available to everyone. The Mission is one of these strains and about 50% of its phenotypes have been extremely high in CBD.
It is an extremely resinous plant that gives amazing yields of delicious smelling buds. Even the phenos that aren't as high in CBD are more than worth keeping. 
The Mission is a regular strain, which means it will grow into both male and female plants. Regular strains are also photo period and will need a light cycle to flower.
Despite the popularity of feminised and auto-flowering seeds, regular seeds still have a place in the hearts of most breeders and traditional growers. Breeders require the male pollen to easily breed their own crops.
The split of males and females is usually roughly even, which allows them to select only the very best plants to pass on their genes. Regular plants are also sometimes used in attempts to reintroduce cannabis into the wild. 
This strain needs 8 – 9 weeks to flower and can be grown indoors or outdoors. 
Remember that the cultivation of cannabis seeds is illegal in some countries, please check the laws of your country before attempting to cultivate cannabis seeds.