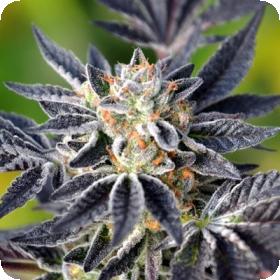 The Maestro Regular Seeds
The Maestro is a cross between Purple Urkle and Frisco OG. The Frisco father adds a high resin production and a quick flowering time which blends nicely with the yield and the colours present in the plant.
The flavour is extraordinary, a combination of orange, coffee, incense and pine with a hint of wine. This is a great strain for those who like to treat themselves to something a little more decadent. 
This is a regular strain, which means that it will grow into both male and female plants. Regular seeds are also photoperiod and will require a light cycle in order to flower. Regular plants are ideal for breeders, who actually need the male plants for breeding.
Since the split of males and females is roughly even they have plenty of choice when it comes to selecting the parent plants of the next crop. If the two best plants are selected they will improve the quality of the future plants, while removing any genetic weaknesses. 
This strain needs 9 weeks to flower and can be grown indoors or outdoors. 
Remember that the cultivation of cannabis seeds is illegal in some countries, please check the laws of your country before attempting to cultivate cannabis seeds.