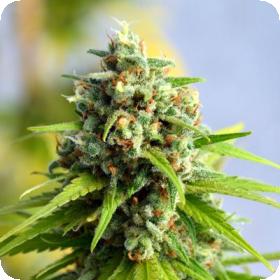 This easy to grow strain is an excellent cross between XJ-13 and Deadhead OG. The effect of the strain is powerful and heady with a great motivational boost. This makes it an excellent choice for daytime use by those who are in need of pain relief.
It is also a vigorous grower that is super resistant to mould, making it perfect for all sorts of growers and breeders. The flavour is one of sweet lemon with a spice that gives it a perfect little kick. 
Sugar Kiss is a regular strain, which means it will grow into both male and female plants. It also means that it will require a light cycle in order to flower. Most breeders much prefer regular seeds to auto-flowering or feminised seeds because they make breeding easy.
They supply a roughly even split of males and females, which gives the breeder a lot of choice when it comes time to select parent plants.
The better the parent plants the better the future seeds will be, this is also a good way to remove any negative traits from the previous crop. 
This strain will take 8 – 9 weeks to flower and can be grown indoors or outdoors. 
Remember that the cultivation of cannabis seeds is illegal in some countries, please check the laws of your country before attempting to cultivate cannabis seeds.