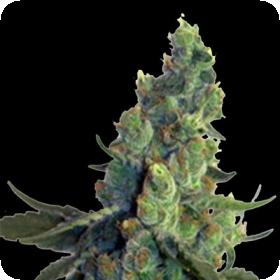 Sour Chelumbian Regular Seeds
Sour Chelumbian is a wonderfully potent strain which was created by combining East Coast Sour Diesel and Chelumbian. This is the ideal strain for anyone who needs a little pick-me-up.
It elevates mood and created a positive mental space, which can really help just getting through the day. It's perfect for those suffering from anxiety or depression and for those who need a good day time painkiller.
It has a delightful sweet and sour flavour with a hint of spice along with a potent scent. It is easy to grow, so ideal for less experienced growers. 
This is a regular strain, which means that it will grow into both male and female plants. Regular strains are also photo period and need a light cycle in order to flower.
Regular seeds are popular with old school growers and breeders, who prefer the stability and reliability of regular seeds to that of feminised or auto-flowering seeds. For breeders the main allure comes from the combination of males and females.
The split is roughly even which gives them a lot of choice when it comes to selecting the parents for the next crop. This is a great way for them to improve the over all quality of the crop whilst also removing any undesirable traits. 
This strain will grow well indoors or outdoors and takes 9 weeks to flower. 
Remember that the cultivation of cannabis seeds is illegal in some countries, please check the laws of your country before attempting to cultivate cannabis seeds.
Genetics:
East Coast Sour Diesel x Chelumbian