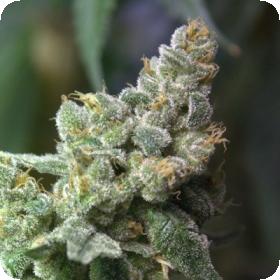 Queen of Hearts Regular Seeds
Queen of Hearts is just as impressive as her name suggests. This strain is potent, powerful and delicious with her strong cherry and pine scent. For those who are searching for something to kick start their brain, look no further.
This is a perfect strain for socialising, getting creative or even just making a really fun cup of tea. Despite its power this strain won't negatively effect the body, keeping everything moving and full of life.
An excellent strain for those who are looking for a daytime pain killer.
This strain is regular which means that it will grow into male and female plants. It is also photo period and will require a light cycle in order to flower. Most breeders prefer regular seeds for their stability, reliability and easy to breed nature.
The split of males and females in a regular crop is about even, which means that breeders have a lot of choice when the time comes to pick parent plants.
The parents will predict the quality of the next batch of plants and are a great way to remove any unwanted traits from the previous crop.
This strain needs 8 - 9 weeks to flower and can be grown indoors or outdoors.
Remember that the cultivation of cannabis seeds is illegal in some countries, please check the laws of your country before attempting to cultivate cannabis seeds.
Genetics:
Killer Queen x Deadhead OG