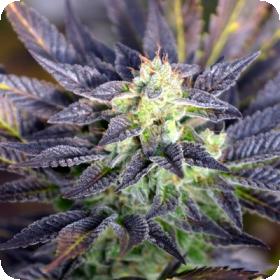 Pretty Wicked Regular Seeds
Pretty Wicked is a delightfully smelly strain that was created by combining Chem D and Purple Mayhem. It is not only an olfactory treat but the combination of colours and sparkling resin is pretty easy on the eyes.
This is a strain for all the connoisseurs out there, a stunning beauty that can back it up with potent, top quality buds. The yield is not to be sniffed at either and Pretty Wicked is sure to make an excellent addition to any garden.
Pretty Wicked is a regular strain and will grow into both male and female plants. It will also require a light cycle in order to flower. Regular seeds are primarily popular with breeders, who need the male pollen to create their next crop.
Since the split of males and females is about even they have plenty of choice when selecting the parent plants. These parents will pass on their best genes to their babies, which is a great way for breeders to improve their next crop whilst removing any genetic weaknesses.
This strain can be grown indoors or outdoors and has a flowering time of 9 weeks.
Remember that the cultivation of cannabis seeds is illegal in some countries, please check the laws of your country before attempting to cultivate cannabis seeds.