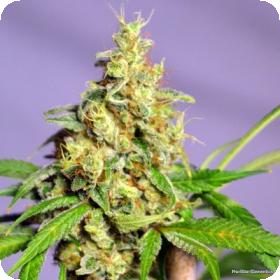 Panama Jack Regular Seeds
This strain is a cross between Jack's Cleaner and Chelumbian, and an excellent medical strain. This is the go-to plant for those suffering from excessive cramps and nausea as well as chronic pain.
The effect is uplifting and happy, which makes it a great day time or nighttime strain. There is no excessive paranoia and the sweet lemon flavour is absolutely mouth watering.
This strain is perfect for those who need a little relief and just want some help relaxing.
Panama Jack is a regular strain and will grow into a combination of male and female plants. Most breeders prefer to use regular strains because of their stability and reliability.
The split of males and females is roughly even and this means that breeders have plenty of choice when it comes to selecting the parent plants for the next crop.
Choosing the best of each gender will ensure the quality of the next crop whilst also removing any genetic weaknesses.
This strain can be grown indoors or outdoors and has a flowering time of 9 weeks.
Remember that the cultivation of cannabis seeds is illegal in some countries, please check the laws of your country before attempting to cultivate cannabis seeds.
Genetics:
Jack's Cleaner x Chelumbian