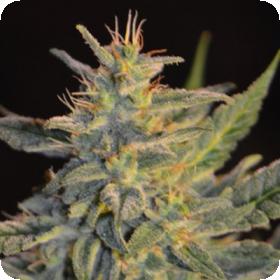 Goo-Che is a gorgeous combination of Northern California Gooey and Chelumbian. The resin production on this strain is out of this world and so heavy that it looks as though the plant is encrusted with diamonds.
This strain is also popular for her versatility and powerful effect combined with extremely impressive yields. The flavour is a mix of wood, earth, musk and just a hint of sweetness. A real down to earth, enjoyable strain that is ideal for all types of grower.
This strain is regular and will grow into both male and female plants. It will also need a light cycle in order to flower. Despite the rise in auto-flowering and feminised plants, most breeders and traditional growers still much prefer to use regular plants.
The split of males and females in a regular crop is roughly even, which is ideal for breeders. They can select the top two plants to act as the parents for the next crop. By choosing the finest specimens they can raise the quality of their next crop whilst avoiding less desirable traits.
This strain can be grown indoors or outdoors and needs 8 weeks to flower.
Remember that the cultivation of cannabis seeds is illegal in some countries, please check the laws of your country before attempting to cultivate cannabis seeds.
Genetics:
Northern California Gooey x Chelumbian